BLMS

students learn about different career paths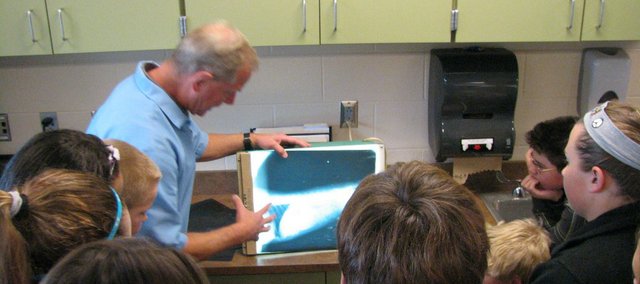 Eight professionals from around the Kansas City area and Basehor shared some words of wisdom with eighth-graders at Basehor-Linwood Middle School on Tuesday.
The guest speakers were part of the Career Explorations class. Brandi Turner, a teacher at BLMS, said this is the first year of the class and the first time they have hosted professionals from all walks of life. Already, Turner said, she has gotten feedback from kids who want to see even more career professionals, such as attorneys and doctors, next time.
"I have seen a lot of requests for other things in the spring," Turner said.
The students, for this inaugural round of speakers, were given a list of all eight speakers. Then they ranked them based on potential interest for a future career.
Their choices: Amy Reif, the head softball coach at Park University; Eric Turner, director of operations at McCown Gordon Construction; Sarah Kellogg, owner and designer of Kellogg Interiors; Andy Pierson, global manager for Perceptive Software; Claudia McVicker, professor of education at MidAmerican Nazarene University; John Teeter, a veterinarian at Nall Hills Animal Hospital; Kathy Youngquist, a human resources director with First State Bank & Trust; and Blake Waters, the Basehor and Piper area president at First National Bank & Trust.
Some of the students knew exactly whom they wanted to hear speak while others simply learned about careers they hadn't thought about.
Teeter spoke to the class about the benefits of being a veterinarian, shared some gasp-inducing stories about animal surgeries and then displayed some X-rays of dogs and cats who had eaten something dangerous.
Colton Leonard, an eighth-grader from Basehor, raised his hand after Teeter explained his educational background. Leonard wants to become a veterinarian some day and said he is still trying to decide whether he wants to focus on large animals or small.
"Are there any extracurricular things we can do to become a vet?" Leonard asked.
Teeter explained that any activity out of school can help whether it is volunteering at a local animal shelter or starting a fundraiser for abandoned animals. Leonard said he planned on volunteering at a local shelter when he's old enough.
Kainen Manis, another eighth-grader from Basehor, was not going to miss McVicker's speech about becoming a teacher. Manis said he wanted to become either a physical education teacher or a math teacher. He raised his hand confidently when McVicker asked the class, "Who wants to be a teacher in here?"
McVicker told the students how many years it takes to become a teacher and why the profession is such a joy in her life.
"Happiness is such an important thing in your career," McVicker told the class. "It's so hard to be unhappy when you're surrounded by kids."
McVicker also explained how a degree in education can get you jobs at other places besides schools, such as zoos and museums.
"I learned that being a teacher can bring a lot of good opportunities for your life because you can get a lot of different jobs," Manis said after listening to McVicker.
The eighth-grade class will hear from a new group of speakers in the fall, Turner said, as the Career Explorations class continues.
"The benefits of something like this are just great as the kids are about to enter high school," Turner said.