BLHS

wrestlers go undefeated in season-opening duals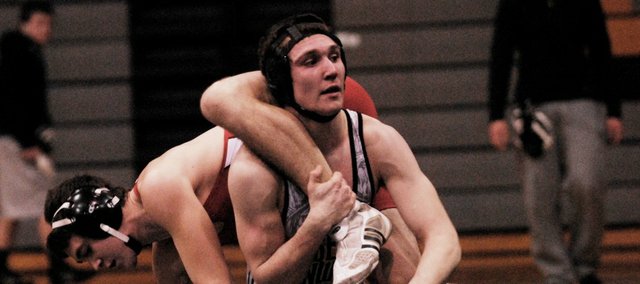 When the Basehor-Linwood wrestling team opened its 2013-14 season, coach Tyler Cordts' primary goal was clear: Get his wrestlers as many matches as possible. With seven duals in two days, mat time wasn't hard to find.
Going undefeated in the process? Well, that was just icing on the cake.
Cordts' squad did just that, sweeping a triangular Thursday at Piper, then going 5-0 Friday at Spring Hill. Seven wrestlers recorded at least three wins during that stretch, and 15 competed in at least one match.
"Going into the duals, I was a little nervous," Cordts said. "We were a little banged up, so our lineup wasn't at full strength. But, to see the way the boys stepped it up to make up for all that, it was just amazing. I couldn't have been more pleased."
The Bobcats started things off against Kaw Valley League opponents Piper and Bonner Springs on Thursday. They edged out rival BSHS, 41-27, then knocked off a shorthanded Piper squad, 53-21. Senior Dalton Inlow (138 pounds) was the only Bobcat to go 2-0, but several wrestlers only got one match because Piper was open at nine weight classes.
One day later, BLHS traveled to Bonner Springs for duals against five schools from the Kansas City metro area — most of them Class 6A. The Bobcats went undefeated against Shawnee Mission South (51-27), Olathe South (68-10), Blue Valley (52-24), Bishop Miege (63-17) and Blue Valley West (39-33). Seniors Josh Summers (152) and Johnny Hopper (160) each went 5-0 at the event, bringing their season records to 5-1 and 6-0, respectively. Hopper had three pins and two major decisions. Fellow seniors Inlow and Cory McCleary (170) went 4-0 with three pins apiece. Inlow is now 6-0 and McCleary 5-0.
The duals were the final career action for Inlow, who pushed back a season-ending shoulder surgery to compete.
"He just absolutely dominated despite being injured," Cordts said of Inlow. "It was a really gutsy performance by him. Of all the wrestlers I've got, he's come farther in a year than anybody else. He's just a great, tough kid."
Freshman Corbin Nirschl — currently ranked No. 1 in the 4A state poll at 106 pounds — went 3-0 with two pins and a major decision in his first three high school matches.
Other Bobcats with three or more wins after the duals are Justin Phillips (132, 4-3) and Justin Summers (145, 5-2).
After more than a week off, BLHS will travel Saturday to Shawnee Mission Northwest for its first tournament of the season. The field is comprised of primarily 6A schools, including 2013 state third-place finisher Derby.
Cordts will be without several regulars — some are still battling injuries and others will be taking the ACT exam — but is optimistic his squad can continue to make a splash as the young season unfolds.
"We're really in a great situation," Cordts said. "We had seven duals in a matter of two days, so we got to see everybody on the mat in a lot of different situations, so we got to get a good gauge of where everybody is. That leaves us with five full days of practice to correct the areas we need to work on. It's just a perfect situation right now.
"Once again, we'll be out a few of our starters, but we'll still put a very quality team out on the mat. Our expectations are to be in the talk at the end of the tournament."
Dual scores
BLHS 41, Bonner Springs 27 (Friday)
BLHS 53, Piper 21 (Friday)
BLHS 51, Shawnee Mission South 27 (Saturday)
BLHS 68, Olathe South 10 (Saturday)
BLHS 52, Blue Valley 24 (Saturday)
BLHS 63, Bishop Miege 13 (Saturday)
BLHS 39, Blue Valley West 33 (Saturday)
Individual records
Dalton Inlow 6-0
Johnny Hopper 6-0
Cory McCleary 5-0
Corbin Nirschl 3-0
Josh Summers 5-1
Justin Summers 5-2
Justin Phillips 4-3
Dominic Foster 1-0
Shayn Morris 1-3
Zach Holtgrewe 1-3
Bret Fritz 1-3
Steven Struzzo 1-5
Rylan Hawthorne 0-1
Jasper Dare 0-1
Jake Phillips 0-4