Legislators travel to Basehor for Common Core presentation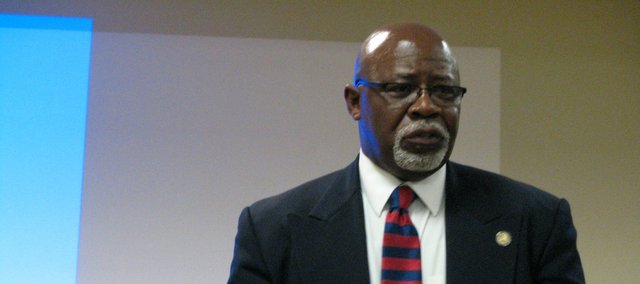 Basehor — The pre-legislative session debate over Common Core education standards returned to Basehor last week as Rep. Willie Dove, R-Bonner Springs, convened a group of opponents to discuss the issue.
The goal of legislators fighting against Common Core right now is not to defund the standards adopted in 2010, but to develop Kansas' own set of standards independent from federal control, Dove said.
Dove presented several speakers at the Basehor Community Library. Dove said that legislation is being drawn up for the upcoming 2014 legislative session to block some aspects of Common Core. But defunding the program, he said, would "only hurt the teachers and students."
The event followed Basehor-Linwood School District Superintendent David Howard's October presentation about Common Core in which Howard presented the case for the standards and let teachers speak about Common Core in the classroom and their positive experiences.
Dove, in returning to Basehor to discuss the hot-button issue, said Basehor is the perfect place to open up discussions about Common Core because of the renowned schools in the area.
"These people, the administrators and the teachers, they do a great job here," said Dove, who serves on the state House education committee. "I want to bring them some information from both sides of this. We have to have participation from our teachers and our parents to make sure our kids are getting the very best."
About 40 people turned out for Wednesday event including two other state legislators, Rep. John Bradford, R-Lansing, and Sen. Steve Fitzgerald, R-Leavenworth. In addition to a short presentation from Dove, key speakers were Walt Chappel, a former four-year member of the state Board of Education who drove to Basehor from Wichita for the event, and representatives from the organization Kansas Against Common Core and Kansas Catholics for Academic Excellence. Dakota Hoagland, a 19-year-old from Marysville, Kan., and a Ph.D. student at Capella University studying epidemiology, also spoke, saying that she would not be where she is today had studied under Common Core.
"I want to see an education system that lets students achieve what someone might say is impossible," Hoagland said.
Each presenter spoke of "myths" about Common Core.
Common Core was developed by state organizations to build standards aligned with international standards. However, all of the speakers Wednesday argued that the standards were handed down to the states from the federal government and large corporations and that the standards are not actually bench marked with any international education standard. The speakers did not offer evidence of those claims.
"As an educator who's parents were both educators, I have strong concerns about Common Core," Chappel said.
Chappel was a member of the Kansas Board of Education when the board voted to adopt Common Core with a vote of 7-to-1, with two abstentions, making Kansas one of the 45 states to do so.
The Kansas State Board of Education adopted the Common Core standards in 2010 following a year of study. The state board is responsible for setting academic standards in core subjects as well as methods for testing those standards. The state board was due to update math and English standards in 2010 and that's when committees of Kansas educators and department of education staff began evaluating Common Core.
September of this year, the Kansas Republican Party passed a resolution stating its opposition to the standards. The Kansas Republican Party, according to reports, stated previously that they wanted to block or defund Common Core because they t believed the standards removed local control of education. Thirteen states since 2010 have opted out of Common Core.
One of the concerns, voiced Wednesday by Chappel, is the collection of data associated with Common Core. Chappel argued that individual student data should not be shared with the federal government or any third party corporation. However, the Kansas State Department of Education has said it will not collect any more personal information about students than it collects already, and the state will retain sole ownership of that data.
Other concerns from Wednesday include the cost of testing, control over curriculum and the trouble of assigning a "one size fits all," as Chappel said, standard to the entire country. Howard expressed concern at his October meeting that scrapping the development of Common Core testing and creating the state's own system would cost more and take longer than the projected numbers for Common Core.
That, however, has turned out to be largely unfounded. Last week, the Kansas State Board of Education voted to drop out of a multi-state consortium called Smarter Balanced, which is developing Common Core-aligned tests, and to continue contracting with Kansas University's Center for Educational Testing and Evaluation to develop and administer state assessments in Kansas. Board members who supported that plan noted that the CETE tests will cost about $1.3 million a year less than the Smarter Balanced tests, although it will take CETE an additional year, until the spring of 2016, to fully implement the new tests.
Kansas currently pays CETE about $4.5 million per year to develop and administer all of its state assessments. Having the center design and administer new Common Core tests is expected to increase that price to $5.7 million in 2014-15; $5.35 million in 2015-16; and $5.1 million thereafter. The cost of the Smarter Balanced tests was estimated at $6.4 million per year.