Bobcat wrestlers take third at
SMNW
BLHS

to end 2013 in Emporia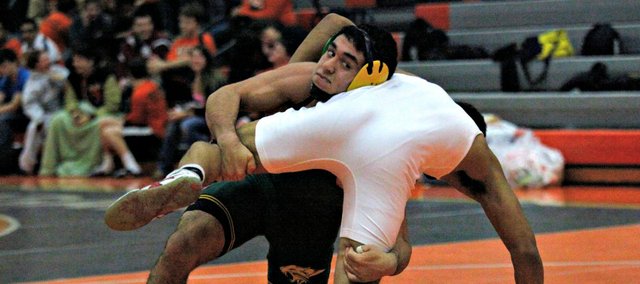 In its first two outings of the season, the Basehor-Linwood High wrestling team proved it was up to nearly any challenge in dual competition. On Saturday, the Bobcats got their first taste of tournament action. Once again, they passed with flying colors.
Three individual titles powered BLHS to a third-place team finish at the 11th annual Cougar Invitational at Shawnee Mission Northwest High. BLHS finished with 123 points, coming in behind Blue Valley Northwest (170.5) and Washburn Rural (143) and just ahead of Dodge City (120).
"For the first tournament, I think we really did well," coach Tyler Cordts said. "It's kind of a grinding day, and it's different trying to get used to it."
Four Bobcats found themselves in the championship round at the end of the tournament. Junior Shayn Morris (106 pounds) pinned Olathe Northwest's Will Whitaker in the finals, capping off a day in which he defeated the second-, third- and fourth-seeded wrestlers in his weight class. Seniors John Hopper (152) and Cory McCleary (160) followed suit, pinning their opponents to claim gold medals. Both wrestlers pinned their way through the tournament and remained undefeated this season. The tournament title was the first of Hopper's high school career.
Fellow senior James Handke was seemingly headed to overtime in the 170-pound final, but Lawrence Free State's Sam Skwarlo scored a two-point reversal in the final seconds for a 6-4 victory.
"That was the match of the day, so that was great to see," Cordts said. "James wanted it and he went after it. Unfortunately, he fell short, but he battled."
Freshman Justin Phillips (132) and senior Josh Summers (145) wrestled their way to the consolation finals and finished third and fourth, respectively. Phillips, who reached the third-place match with a last-second win in the consolation semifinals, won when Washburn Rural's Josh Garrett was disqualified for an illegal throw. Meanwhile, Summers suffered an 8-6 loss to Leavenworth's Danial Wilson.
The Bobcats were without two of their top wrestlers in freshman Corbin Nirschl (106) and junior Zack Carter (195), but Cordts hopes to have both back when the team closes out 2013 Saturday in Emporia. The tournament features some of the state's top Class 5A and 6A programs, including 6A state runner-up Junction City.
"This weekend is huge because how we do this weekend is how they're going to do their season for the next three weeks," Cordts said. "We're going up some big names in Emporia, so to get in there with them, it's really going to be a big confidence boost."
Overall team scores
Blue Valley Northwest, 170.5; 2. Washburn Rural, 143; 3. Basehor-Linwood, 123; 4. Dodge City, 120; 5. Shawnee Mission Northwest, 95; 6. Lawrence Free State, 74; 7. Olathe Northwest, 73; 8. Olathe East, 71; 9. Royal Valley, 60; 10. Shawnee Mission West, 56; 11. Shawnee Mission North, 53; 12. Wichita Southeast, 52; 13. Liberty North, 50.5; 14. Leavenworth, 36.
BLHS individual results
106 — Shayn Morris, 3-0 (First)
113 — Open
120 — Open
126 — Rylan Hawthorne, 1-2 (N/A)
132 — Justin Phillips, 4-1 (Third)
138 — Justin Summers, 1-2 (N/A)
145 — Josh Summers, 2-2 (Fourth)
152 — John Hopper, 4-0 (First)
160 — Cory McCleary, 4-0 (First)
170 — James Handke, 3-1 (Second)
182 — Zach Holtgrewe, 0-2 (N/A)
195 — Open
220 — Dominic Foster, 0-2 (N/A)
285 — Collen Povilonus, 0-2 (N/A)
More like this story