Couple hopes display inspires holiday cheer, donations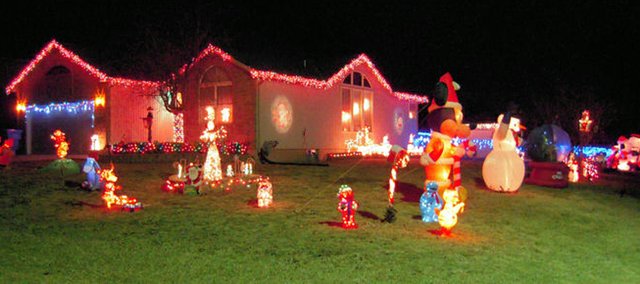 Robin Lewis and Robert Werst know that their Christmas light display can be seen from about a mile and a half away at 138th Street and Metropolitan Avenue.
So they think they are definietly meeting their goal of brightening everyone's holiday. Werst notes the display often stops traffic passing by on Metropolitan Avenue.
"It puts everyone in Christmas cheer and makes everyone happy this time of year," Werst said. "Having it out, having the Christmas spirit, it makes everyone's Christmas a little brighter and happier."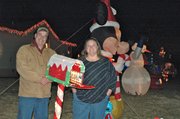 This is the third year couple has decorated their property at 14722 Hickory Dr., in the portion of Bonner Springs located in Leavenworth County, with lights and several inflatable Christmas characters. And while they are happy to spread holiday cheer, they say they hope their display inspires some who see it to give to the American Cancer Society during the holiday season.
The display started as a way to honor lost loved ones. Werst lost his mother to cancer as well as aunts and uncles, and his father is currently battling cancer. Lewis's father died when he was just 56 of a heart attack, and she has lost two husbands to cancer.
"Hopefully his momma and my daddy and everybody else can see it up there in the clouds," Lewis said.
Given the number of loved ones they have lost to cancer, they thought about putting out a donation box for the American Cancer Society, but they worried that the box would be stolen. So now they just put up the display to inspire the Christmas spirit in others and ask people to consider making a donation.
They think their display includes at least 200,000 lights, and about a hundred extension cords to support the lights and a good dozen inflatable items. As the house is located at the corner of Hickory and Metropolitan, the display spreads from the front yard, along the side of the house into the back yard. Their light bill has grown from about $60 more than usual a month to almost double that.
"Each year, it has pretty much doubled, everything we have out here," Lewis said. "I don't think we can double for next year — I don't think my electric box can handle it."
Werst estimated it took him a month and a half to get all of the elements put up this year, from tying down the tall inflatables to creating their more unique Flamingo Christmas Tree in the back yard. About half of what they display is second-hand from garage sales or thrift stores, and the rest comes from post-Christmas sales.
"We finally got smart this year and got remote controls so we don't have to go around plugging stuff in outside every night," Lewis said.
While they don't think they can add any more lights, they do want to look into what many others have done and choreograph their lights to music.
"We're going to look into that next year," Lewis promises.
For now, they are happy doing what they can to light up the winter nights with holiday cheer.
"Last year, this lady brought me by a poinsettia, thanking me for doing the lights because her kids love it so much and want to come down and see it every night," Lewis said.
The couple says they will keep their display up through at least the first week of January.