New
USD

458 classes add to career pathways experience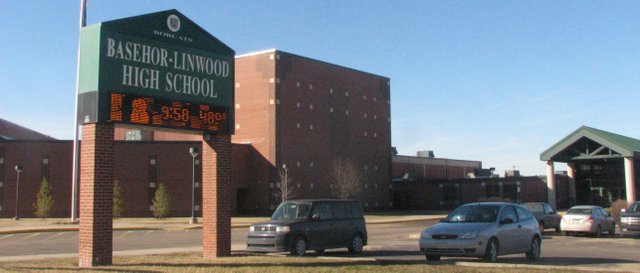 Students in Kristen Loney's graphics design class will soon be able to publish work in a professional environment by collaborating with local Basehor businesses and the school district.
A new course, scheduled to begin in the 2015-2016 school year, will allow her students to put their work on the professional playing field.
"It's one thing to do work for me," Loney said, "but if a student wants to pursue a career in graphic design, they need to get that real-world experience."
The new class, Media Technology—Workplace Experience, is one of several approved this month by the USD 458 Board of Education. The list of new classes includes an additional algebra class that will be offered daily, instead of every other day on the school's block schedule. Another course change requires students to take a foundations of physical education class rather than being given the option of taking a strength and conditioning class instead.
Loney's new class, along with a new culinary arts class, will offer students the opportunity to engage the community with their studies. Students in the graphics design class would also collaborate with the school district in designing publications and other tasks. The class, which began in 2012, has up until now been designing the official posters for school productions and school events.
"We're always looking for ways we can give back and contribute to the community," said Sherry Reeves, BLHS principal. "This new class is a really exciting way to do that."
The new culinary class, Culinary Arts II, is scheduled to begin in the 2014-2015 school year. Mary Myer, the Culinary Arts A and B class instructor, says the new class will offer students a chance to work in restaurant or catering business simulations as well as offer them class credit through Kansas City Kansas Community College.
BLHS's current culinary arts pathway has an agreement with Barton County Community College for a certificate in Dietary Manager Studies. Myer said it is difficult to recruit students for that career path. The new agreement with KCKCC would offer students credit and the ability to choose which field they would like to pursue through KCKCC.
"Even if these students don't do this for a life-long career, they may at some point work in food service and this class would help them with that," Myer said.
Everyday Algebra
BLHS's new algebra class was approved this month after Reeves presented information from national studies about the importance of re-enforcing basic algebra skills daily. In the current block schedule at BLHS, a student in Algebra I on Monday morning could potentially not practice the skills learned that day until he or she does his homework Tuesday night in preparation for the next block on Wednesday.
The new Algebra I class, which will be offered as an option to students and not as a replacement for the current block schedule in 2014, would have the same as the current algebra class but would meet daily.
"They will have the opportunity for more repetition," said math instructor Emily Snyder. "If you're successful in Algebra I, it's only going to help you as you progress into other classes."
Reeves added that the daily algebra class would also help the school in making sure students meet the standards set by the state and the Kansas College and Career Reading Standards for Mathematics and allow students to complete their Algebra requirements in just one year as opposed to two.
The new physical education requirement takes away the option for students to take either the foundations of physical education course or the strength and conditioning and health course. Reeves said students miss out on key fundamentals of life long physical education, such as team building, if they only take the strength and conditioning course, which she says has more of an emphasis on the individual.