POWER

SURGE

: Bobcat lifters eye continued success in 2014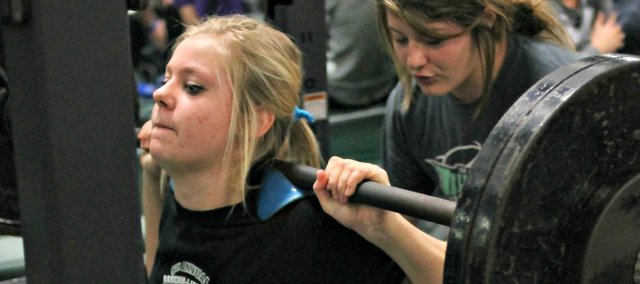 2014 Schedule
Jan. 11 — at McLouth
Jan. 18 — at Royal Valley
Feb. 8 — Bobcat Invitational
Feb. 22 — at Clay Center*
Feb. 22 — at Horton*
March 1 — State (Abilene)
*Split squad
While several Basehor-Linwood High teams have already opened winter competition, one has been hard at work in preparation for 2014.
The Bobcat powerlifting team will resume practice today for its upcoming schedule, which begins in just nine days. Once again, both teams enter the season with high expectations. The girls won their sixth consecutive state title last March, while the boys claimed their fourth.
"They really like to see the continuation, so they want to perform well," coach Ross Schwisow said. "We're really seeing a lot more schools starting to do it, so the competition is getting a lot higher, which is a lot of fun."
The Bobcats officially kicked off their season Dec. 17, with their annual lift-a-thon at BLHS. The event serves as a fundraiser for the program, as well as a tryout for more than 140 lifters. This year's event raised more than $4,000, which will go toward the purchase of new barbells.
In total, more than 300 BLHS students participated in strength and conditioning during the fall semester. Not all participants are a part of the powerlifting team, but Schwisow said, the overall purpose of the school's weight program isn't necessarily to win meets in the winter.
"They're doing this for future sports," he said. "It's supposed to teach them those principles, so when they go to play baseball or go to track or football, they'll see the work."
Schwisow added weight training is a year-round event at the school, noting there are as many as 180 students in the weight room on any given night. Additionally, the summer conditioning program averaged 290 participants per day in 2013 with 216 attending at least 90 percent of the sessions.
The powerlifting team will open its schedule Jan. 11, at McLouth. It will host the Bobcat Invitational — a meet Schwisow said attracted 570 lifters from 28 schools last year — on Feb. 8. The Class 4A state meet is set for March 1 in Abilene.