BSHS

girls, boys sweep Bishop Ward to extend winning streaks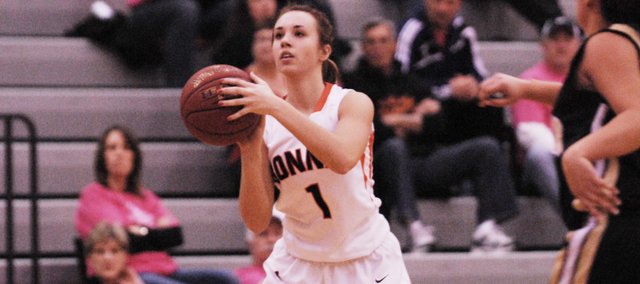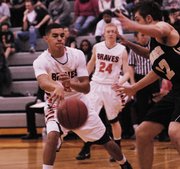 Bonner Springs seniors Anna Deegan and Haley Hoffine each led the Braves with 14 points apiece in a 56-43 victory against Bishop Ward on Friday.
The Braves held on to improve to 13-2 (8-1 in league play), winning their sixth straight despite a slow first quarter in which BSHS led 5-4 after the first eight minutes.
Deegan and Hoffine came through in the fourth quarter to help BSHS pull away, scoring eight and six points respectively — Hoffine went 6 of 6 from the foul line in the quarter and hit 8 of 9 free throws overall.
Freshman Julianne Jackson added nine points in the win and both sophomore Kaliegh Taylor and junior Kennedy Bizzell scored six points. Sophomore Abrise Sims also scored all four of her points in the fourth quarter.
BSHS boys 36, Bishop Ward 30
The BSHS boys basketball team held on to win a low-scoring affair against Bishop Ward on Friday, defeating the Cyclones, 36-30.
BSHS senior Austen Twombley was the only player to reach double figures, leading all scorers with 14 points. The win was the second straight for the Braves (7-8, 3-6 in the Kaw Valley League), who also defeated Turner, 48-41, on Tuesday.
Senior Logan Terrell scored nine points and senior Tyler Howell added five in the win. Also on Friday, senior Jason VanMaren and junior Jordan Jackson each scored four points.