Bobcat girls' skid hits seven with loss to Tonganoxie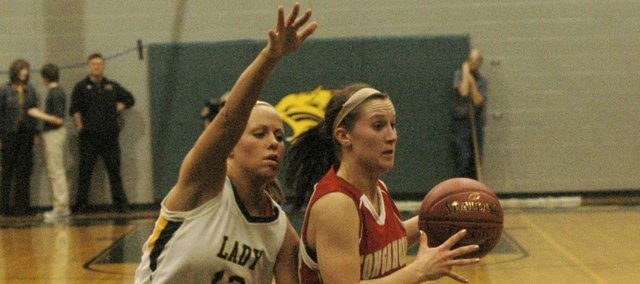 The Basehor-Linwood girls nearly erased several double-digit leads in Tuesday's meeting with Tonganoxie, but as it turns out, the team's losing streak will live on for at least a few more days.
The Bobcats saw their skid hit seven games with a 52-46 loss to their Kaw Valley League rival. BLHS pulled within four points after trailing by as many as 11 in the fourth quarter, but couldn't quite cap off the comeback in the game's final minutes.
"We kept fighting, but when things went bad, we kind of let it get to us," BLHS coach Jason Tatkenhorst said. "We'd wait around for somebody to make a shot, then we'd get excited. We realized we were playing a very good team in Tonganoxie, and we've got to really play well every single possession."
BLHS (5-11, 3-6 in the KVL) fell behind 39-28 with 7:02 remaining, but used a late surge to trim the deficit to four with 1:35 left in the game. That's as close as it got, though, as the Chieftains (10-5, 7-2) extinguished the comeback attempt with late free throws.
After falling behind 11-5 after the opening period, Tatkenhorst's squad saw the deficit grow to 10 midway through the second quarter.
However, the Bobcats used a 10-4 run to get within four at halftime, 21-17. Jamie Johnson, who erupted for 32 points in last week's overtime loss to Piper, knocked down back-to-back three-pointers to cap off the scoring run.
Johnson and Amber Garver each scored 13 points to lead BLHS, and Marriah Clayton added eight. Jenny Whitledge led Tonganoxie with 18 points and 15 rebounds.
"Tonganoxie played good defense against Jamie, but I was happy with her adjusting and still making some shots," Tatkenhorst said. "It was good to see other girls step up, too, because we're going to need that down the stretch."
The Bobcats will hit the road Friday for a KVL clash with Bonner Springs. The Braves are currently second in the league standings and have won their last seven games.
"It doesn't get any easier," Tatkenhorst said. "We've got to come to practice willing to work hard tomorrow and Thursday. We've got to give it everything we've got Friday on every single possession."