BLMS

students spell well at

KVL

bee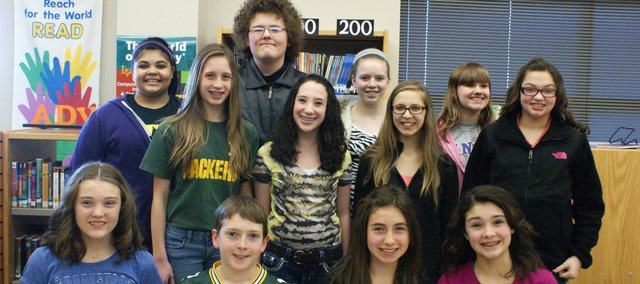 Basehor-Linwood Middle School spellers nearly swept the Kaw Valley League Spelling Bee on Tuesday morning at Tonganoxie Middle School.
Calder Hollond took first for eighth grade, Alyssa Richardson first for sixth grade, Ethan Davis second for seventh grade, Cassie Martin second for sixth grade and Sterling Hollond sixth for sixth grade.
Teams from across the Kaw Valley League attended and could bring up to four students from each grade. Before the oral rounds started, spellers first had to pass a written round to narrow the competition to six from each grade.
As competition started, there were looks of relief as spellers completed their words correctly and even a few tears for those who got stumped.
The competition was so evenly matched, one judge noted he was worried they wouldn't have enough difficult words.
Spelling coach and English teacher Natasha VanDyke said she was thrilled her spellers did so well at the bee. BLMS students took up five of the 18 possible spots in the final round.
Last week, VanDyke took seven students to the Leavenworth County Spelling Bee, two of which won first and second and will move on to the state bee.