Community responds to get heater for Bonner Animal Rescue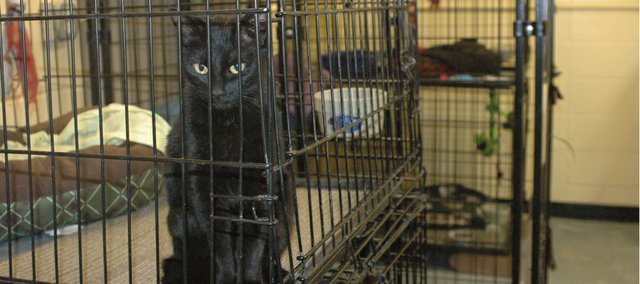 Bonner Animal Rescue's facility Wednesday morning was a toasty 65 degrees — about 25 degrees warmer than it has been for the past three months.
The all-volunteer organization's heater broke earlier in the winter, and while space heaters had kept its animals warm enough for the last few months, recent overnight lows meant it was getting dangerously cold. But a call out to the community produced some surprising results.
"It was amazing; we were overwhelmed," Janet Crouch, spokesperson for BAR, said. "People were calling, sending money via PayPal. It was unbelievable the response; we had seven heating and cooling companies throughout the area offer to help in some way."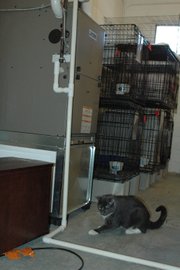 Crouch said volunteers realized the at least 30-year-old heater in their building, formerly storage space on the north end of veterinarian Paul Slyter's Bonner Springs Animal Care Center, was emitting carbon dioxide, with no funds available to replace it.
"We just don't have the funds to go out two or three thousand dollars for a new heater," she said.
So they limped along with space heaters and a heat-pump window unit, barely raising the temperature above 40 degrees and increasing their electricity bills — the bill for November came in at $500.
"We haven't gotten bills for December or January yet, and we're a little bit nervous," Crouch said. "Four months of this would almost have bankrupted us, because we really do live hand-to-mouth on donations, and we don't have a fundraiser in the winter."
Then, last week's overnight lows hit. The five dogs at the shelter were moved to foster care, but when the low Thursday was expected to hit 4 degrees, volunteers knew they had to get help fast for the 17 cats at the shelter. So they sent information to local broadcast news stations, and KSHB 41 responded, running the story on their evening news.
Amidst the overwhelming response was an offer from Lawrence-based Niehoff/Dunco Heating and Cooling, who came to the shelter at 7 a.m. the next day to see what was needed and brought in a crew Monday morning to install a new heating and cooling unit, donated by cfm Distributors, and new duct work. A Kerosene heater was donated to help over the weekend.
Crouch said BAR got emails and donations from as far away as Florida.
"We felt very, very blessed that the community reached out," Crouch said. "The money that we got through donations is going to be used to better insulate the building."
The story also brought in calls closer to home from people who weren't aware that BAR has been taking in the unclaimed stray cats and dogs picked up by the city of Bonner Springs.
"The thing that's very striking to me that came out of this is the fact that we had people here in Bonner that don't realize we have the rescue shelter here," Crouch said.
In addition to providing the organization with some important needs, Crouch said, she hopes the situation spread more awareness of BAR, which helped 230 cats and dogs get adopted last year and is negotiating a contract with city of Edwardsville to start taking their impounded dogs.