'This is it:' Father, son reflect at
BLHS

senior night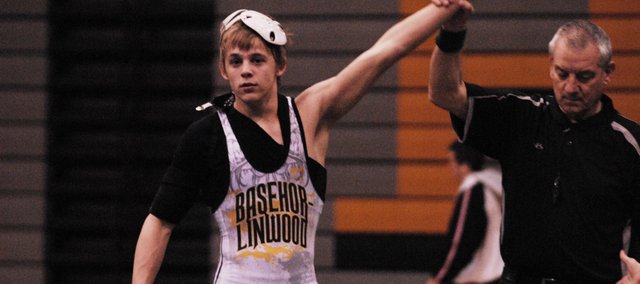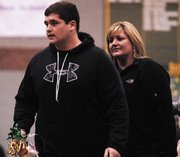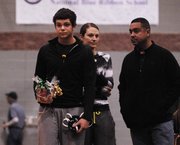 Basehor-Linwood senior Sam Seaton is looking forward to the day, inching ever closer, when he can eat again.
It's not that he's malnourished, it's just that, after years of wrestling, Seaton is all too familiar with the toils of cutting weight — a ubiquitous part of the sport made all the more frustrating by Seaton's love of cooking.
So call him a glutton for punishment, or look at it as a cathartic experience, but during the weeks where his diet is severely limited while he cuts to his wrestling weight of 126 pounds, Seaton likes to have friends over and cook any number of meals he won't be able to eat. His father, BLHS assistant wrestling coach Ed Seaton, shakes his head and smiles when retelling the story, but Sam insists it helps.
"I like food," Sam said, "especially being a wrestler. So it's kind of like if I can't eat it, well at least someone else can enjoy it."
It was but one anecdote the father-son duo brought up at Thursday's senior night triangular dual against Ottawa and Mill Valley — the Bobcats defeated Ottawa, 61-17, but later fell to the Jaguars, 36-32 — one that brought a smile to both as they looked back on a wrestling career nearing its end.
Not long ago, Sam decided not to follow his brother, Symon, a 2011 BLHS grad now wrestling at Fort Hays State, in continuing his wrestling career in college. Now, just Saturday's Kaw Valley League tournament in Lansing and the following week's regional meet at Tonganoxie are guaranteed.
And if he makes it to state, a feat he accomplished his sophomore season but not last year, Salina's Bicentennial Center will be where it will all end.
On Thursday, Seaton defeated both of his opponents, competing for the last time under his high school gymnasium's lights.
•••
First-year BLHS wrestling coach Tyler Cordts was on his feet, waiting for confirmation that Stephen Struzzo had pinned Mill Valley's Regan Wright, following up teammate James Handke's pin of Peyton Bendure and giving the Bobcats a 26-20 lead against the Jaguars.
In what has been a season filled with performances that have noted the improvement of their program, the Bobcats' final home meet was no different. Just one year ago, BLHS was swept against the same two opponents. This time around, the Bobcats reeled off seven pins — earned by Seaton, Handke, Struzzo, Josh Summers, Cory McCleary, John Hopper and Zach Carter — against the Cyclones en route to a dominating win.
And against Mill Valley, the Bobcats went 7-5 in matches in which both teams had wrestlers competing. Take away forfeits and BLHS would have swept its competition just one season after being handed a pair of losses.
Joining Seaton in being honored on senior night Thursday was also Seagar Smith and Will Bond.
Bond dropped both of his matches, though his mere presence on the mat was cause enough for celebration — just weeks earlier, Bond was cleared to return to practice following hernia surgery.
"The day he was cleared, he was back on the mat," Cordts said, shaking his head.
Smith earned a 5-3 victory against Ottawa in sudden death overtime before capping the night with a pin in 2:43 against Mill Valley's Sebastian Uriarte.
"I can't say enough about Seagar Smith," Cordts said. "He's an awesome kid to be around and he's just in his second year. He's been wrestling so well."
The Bobcats are still under the radar, at least in terms of state wrestling rankings. But entering the next two weeks' league and regional tournaments, their fortunes look as good as they have in some time.
•••
By now, after all these years, it doesn't look like it's ever going to go away, the pre-match nervousness. More than anything else, Sam Seaton figured, that may be the area his father has helped him best over the years.
"He keeps me calm and keeps my head on straight," Sam said.
At 20-8, Sam is in the midst of a resurgent senior season, one year after missing out on a trip to state.
He cited wrestling over the summer and entering the season without rust as the biggest factors for his final run at state.
"He's probably three times the wrestler he was as a sophomore," Ed Seaton said of his son's first year wrestling after a multi-year hiatus.
The Seaton family is synonymous with wrestling in both the Basehor and Bonner Springs communities, every since Ed and his brother Jerry, now an assistant coach at Bonner Springs, took up the sport in elementary school. But Sam decided to play basketball for several years after having wrestled first- through third-grade. Sam played the sport up through his freshman year before returning to wrestling.
"I think he's come a long way since his first year back when he was wrestling at 106," Ed Seaton said.
Just three weeks remain on a journey back that has not only seen Sam improve as a wrestler but build a tighter bond with his father.
"It's been a lot of fun," Sam said. "I feel closer to him."
Sam anticipates these final weeks will affect him a little harder as they progress, the reality and finality setting in. This is it, he said on Thursday, repeating words his father said earlier that evening.
Ed Seaton said his son has never been much of a vocal presence, opting instead to keep to himself. The junior-heavy dynamic of the team has meanwhile kept it from needing seniors to lead the way and allowed Sam Seaton to let his work on the mat do the leading.
Now, as the days in which Seaton, Smith and Bond can don Bobcats singlets grow fewer, nights like Thursday have left the seniors confident in their soon-to-be alma mater.
"I feel like they're going to be just fine after we leave," Sam said.