Montemayor:
BLHS

senior Ben Johnson ends basketball season to focus on

KU

football commitment (

UPDATED

)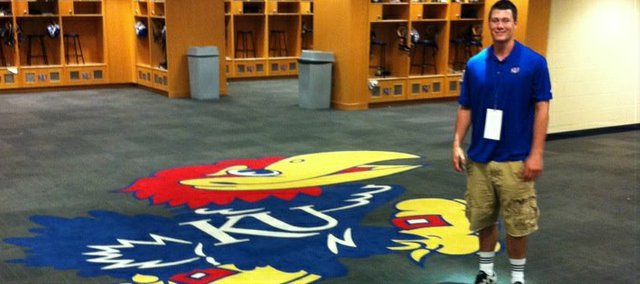 Photo Gallery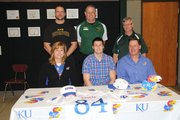 National Signing Day at Basehor-Linwood
Ben Johnson, Andrew Lillich and Ben Potter each signed letters of intent on Wednesday to continue their football playing careers in a signing ceremony at BLHS. If you have additional signing announcements, contact smontemayor@theworldco.info.
Ben Johnson played his final game as a member of the Basehor-Linwood boys basketball team on Tuesday against Tonganoxie.
His departure from the game, with 6:15 left in the third quarter, was a quiet one, lacking the pomp and circumstance afforded many senior athletes suiting up a final time.
Thing is, Johnson wanted to wait until after National Signing Day, after he inked a letter of intent to play football at Kansas University on Wednesday, to speak about his decision.
"I never really wanted to give up on my team or anything," Johnson said. "I don't think that's how it's going to be viewed. I just kind of thought it's time I really needed to start getting ready for football after signing day, especially as I realized how big a deal KU is. That is my main commitment."
Johnson said he spoke briefly of his plans with BLHS basketball coach Mike McBride and also conferred with his BLHS teammates, whom he said were understanding of the opportunity ahead of him. His presence will be missed, but he won't be labeled a quitter — certainly not by those closest to him at BLHS.
"I'd just say it is what it is — the kid has dreams and goals," McBride said. "It's not about quitting, he's doing what he has to do to pursue those dreams and goals. Everyone will perceive the situation as they want to. But if he wanted to quit, he would've quit after he verbally committed last year. He's a smart kid, and for anyone to label him a quitter would be unfair."
At the beginning of this season, Johnson sat out until after winter break, resting a sore knee he hadn't had much of a chance to rest between the Bobcats' 2012 state title run, track and field and his final football season. But his return to the court at all this year was not without risk. One wrong step here, one fluky collision there could've set back his KU football career, or worse. Still, he gave it a shot.
"You like to say that doesn't play in your head — but it really didn't for me," Johnson said. "If you're going to get hurt, you're going to get hurt. You're not going to know when that's going to happen. I just think now I really need to focus on football."
Johnson played in 12 games as a freshman on the varsity basketball team, 22 as a sophomore and all 26 of the Bobcats' 2012 games, the last of which ended with him stealing a brief, if frowned upon, moment of celebration atop the scorer's table in Salina.
Johnson added a key bucket late against Ottawa in the Bobcats' championship victory, one night after his game-winner was erased by a foul call. At the time, he turned and joked to the referee that he had just had his game-winner taken away. Maybe you'll get another chance, the referee replied. The next night, he did.
When McBride sits down to look at the career stat leaders, he figures he'll find Johnson's name in the top 10 in points and near it in rebounds. And that ring Johnson earned last year doesn't hurt his legacy.
More than anything though, McBride said, he'll miss Ben the person more than the basketball player.
"He's such a good kid," McBride said, "I'd love to have spent four more weeks with him."
Johnson, who was invited to the 2013 Shrine Bowl, led the BLHS football team in receiving the past two seasons. Last February, he became the first KU football recruit to accept a scholarship offer from Jayhawks coach Charlie Weis, and signed on Wednesday as a three-star tight end.
Combine that with his basketball accomplishments and, not to mention, his track and field chops — third at the state championships in the discus — and Johnson has a high school resume not all student-athletes can handle with grace. Put simply, Johnson has accomplished plenty enough to walk around on campus with an elevated sense of self.
But ask any of his coaches, or spend any amount of time around Johnson, and it soon becomes clear his athletic accomplishments have never compromised his character. This week's decision to end his basketball season prematurely was something Johnson made with conviction, but not without thinking of the teammates he once shared the court with.
Looking ahead, Johnson agreed that his December absence will benefit the Bobcats in their attempt to finish strong without him.
After a couple weeks of rest, Johnson said, he plans to hit the weight room doubly hard later this month and finish his final track and field season this spring, attempting to eclipse a few personal records while also improving his conditioning before reporting to KU this summer.
When he arrives, Johnson will join a recruiting class with as good an opportunity as any in the country to compete for immediate playing time. The Lawrence Journal-World's Matt Tait wrote that he expected Johnson to redshirt his first season, though made no declaration that a strong summer wouldn't send him up the 2013 depth chart.
"It is really motivating if you think about it," Johnson said of the chance to engineer what would be a historic KU football turnaround. "It means a lot to me. I want to go in there with high spirits."
Johnson signed alongside fellow seniors Andrew Lillich (Butler County Community College) and Drew Potter (South Dakota). Should Johnson and Potter both earn roster spots for their season opener, they could still share the same field in their first regular season game away from BLHS.
"It's just awesome to know that finally Basehor-Linwood is producing athletes that can be thought of as first class and who can carry on hope in the future that other students can see," Johnson said.
With great accomplishments come great expectations. We've seen this with the BLHS basketball team, for good or ill sometimes. And for Johnson, great accomplishments produced the opportunity of a lifetime, a chance to continue a dream he initiated when asking his father, John Johnson, if he'd ever be big enough to play for KU.
Ben Johnson has made it. And this week he also made a tough choice. We owe it to him to respect that choice and send him off this summer with hopes he continues to aim, and dream, high.
Stay tuned for more National Signing Day coverage.