Salon, coffee, cupcakes come to downtown Bonner Springs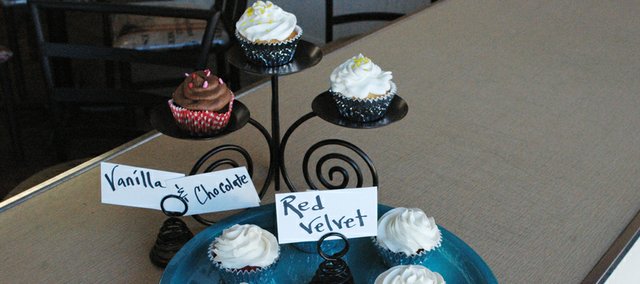 In the past month, Downtown Bonner Springs has welcomed two new, neighboring businesses, with the second opening just this week.
In the street-level space at 128 Oak Street, Story Hair Salon opened its doors earlier this month in Suite A, while E.J.'s Coffee Shoppe & Bakery served its first cups of coffee and cupcakes Monday morning in Suite B.
Jill Creason, owner of Story, said she has been a hairstylist for 13 years, working for herself in a studio rental atmosphere for the last five years.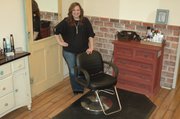 She began to consider opening her own business after a conversation with a friend at the pool last summer. Then, she spoke with one of her clients, the owner of The Pink Zebra, about rental rates in the downtown area.
"I wanted to explore the opportunity to have a business of my own in my hometown," Creason said. "I love the historic downtown and wanted to bring something that hopefully, I will be a long-term presence here and be here for many years."
Creason was driving through downtown when she saw the "for rent" sign in Suite A, but by the time she called about it, it wasn't available, because E.J.'s originally planned to locate there. So, she put the idea on the backburner until she once again drove by and saw that E.J.'s had moved to Suite B.
"This space just kind of spoke to me; I thought it was charming, it had everything I was looking for that would fit perfectly for the type of salon I wanted to have," Creason said.
She put the salon together in about 45 days, remodeling the space with new paint, flooring and light fixtures, removing part of a wall and updating the bathroom.
She used a shabby-chic décor for the space, with stylist station mirrors mounted on old doors and coat hangers in the front hallway mounted on an old fence, reflective of items that can be found at the home décor stores like Bittersweet on Oak in the downtown area.
"That's what I wanted it to feel like," Creason said. "I really just wanted this to be a charming, comfortable space for people to come. I really wanted to fit in with the downtown feel and bring that into my space."
The salon's name came from the discussions Creason has had with her clients over the years.
"I thought we tell stories in here, we tell our stories, we share our life," she said. " … and I feel like our hair tells a story. You can look at a photograph and you can tell the decade by the hair."
The salon will be home to two other stylists, fellow Bonner native Lisa Tate Hendren and another stylist who is still being confirmed. Creason said it will be a full-service, family hair care salon, and she will carry hair products that aren't often seen elsewhere.
Stylists are available by appointment. Contact the salon at 913-787-6791.
Next door, E.J.'s Coffee Shoppe & Bakery also hopes to become a downtown mainstay, though the business had a long evolution before it even opened.
Sisters Elizabeth Cooper and Jennifer Billingsley, and Jennifer's son, Shadow Billingsley, decided to go into business based on Cooper's long baking history. Friends often told her she should go into business, and the trio finally decided to take the plunge with a commercial space, first forming with the name KC Cupcake, LLC.
They took over a turnkey space in the building at 515 Morse, which already was set up as a coffee shop. But the building eventually was sold to a bank and is now being developed as senior apartments.
"So we had bought all of this stuff for operating a coffee shop, and we no longer had the space," Shadow Billingsley said. "… At that point it was either sell off the equipment at a loss or open up a coffee shop."
They turned toward downtown, where they first tried to move into Suite A for 128 Oak. But electrical and plumbing needs forced them to move to the larger, neighboring suite, formerly the offices of The Chieftain. There, they did a good amount of remodeling, with new flooring and paint, not to mention installing a kitchen in the rear of the office space.
They also recycled, however, and customers may recognize the old cabinets from The Chieftain as the front counter, its drawers and cabinets now holding board games and other items for customers to enjoy.
"Kind of a different thing going on than is available elsewhere in town at this time," she said.
They adopted "E.J.'s" as a doing-business-as title, reflecting the first names of the owners.
Shadow Billingsley serves as the main barista, while his mother and aunt do all of the baking and cooking. The shop currently offers a full spread of coffee, espresso, teas, with coffee from Kansas City-based The Roasterie and teas through Teavana, a high-end provider with unique flavors like the Srawberry Rose Champagne Oolong.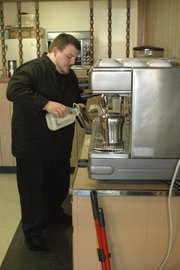 And then there are the baked items: cupcakes and breakfast pastries, as well as catering available for cupcakes and cakes. The shop will offer some breakfast items and things like paninis and salads for lunch, eventually offering daily specials.
"When we hit our stride and finally get everything done, we're going to have a much larger spread," Shadow Billingsley said.
"We'll try to keep things rotated," Jennifer Billingsley added. "There may be some things that if it's popular enough, we'll keep it, but otherwise, we'll try new things."
The shop's hours are in flux right now. They are open at 6:30 a.m. weekdays, closing at 4:30 p.m. Wednesday through Friday. But on Mondays and Tuesdays, when the Allegro Choirs up the street have their rehearsals, they will close at 2:30 p.m. and reopen from 5:30 to 8:30 p.m.
"We're trying to take into consideration what the community needs are," Jennifer Billingsley said. "If people have suggestions of what they think would work, if they feel we're missing out on an opportunity to share more time with them, we'll consider altering our hours."
Current hours on Saturday are 9:30 a.m. to 6:30 p.m., and 9:30 a.m. to 2:30 p.m. on Sundays, though Billingsley said they likely will pick one day to be closed at some point.