Sewer agreement under revision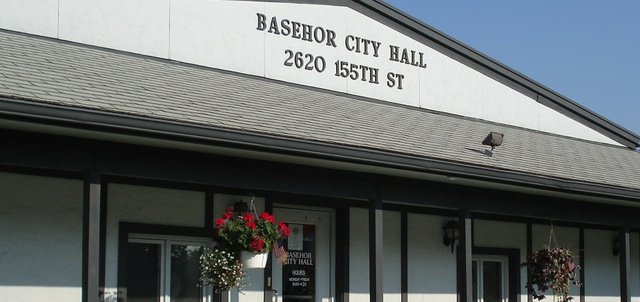 Basehor City Council members will start studying solutions to a defunct 2009 agreement between the city and Leavenworth County Sewer District No. 3.
At a work session Monday, Council President Travis Miles brought council members up to date on the agreement made between the two parties to allow the sewer district to pay cheaper, in-city sewer rates with the idea it would eventually voluntarily annex into Basehor. It was early 2011 by the time construction of sewer lines was complete and the district started receiving in-city rates, but the voluntary annex never occurred, Miles said. The in-city sewer rate is 50 percent lower than the out-of-city rate.
Miles, who was on the council at the time of the agreement, said it's an issue that has been revisited several times over the past couple of years, and it's time to settle the matter.
"It was my intention to begin the annexation process from day one," Miles said.
Interim City Administrator Lloyd Martley said the city has two main options, either the district needs to annex or the city should charge the district the out-of-city rate.
Council member Dick Drennon said he thinks they need to open lines of communication with residents living in the district, which also includes Basehor-Linwood Middle School, to gauge how they feel now about annexation.
"This has gone on for so long I see a lot of confusion," he said.
Council members plan to discuss possible solutions at their work session March 4 after gathering more information and speaking to involved parties.
Also at the meeting:
• Council members discussed waiving the $50 application fee for Leavenworth County Emergency Management to install a new warning siren on Basehor Boulevard. The new siren would cover an area about 5 miles in diameter. Council members agreed to place the item on the consent agenda for their Feb. 25 meeting.
• The council discussed an agreement with Treff Property Management to remove the cul de sac in the High Point Downs Subdivision for an amount not to exceed $1,500. Council members agreed to place the item on the consent agenda for their next meeting.
• Council members discussed the purchase or lease-purchase of a new 2013 Case Uni-Loader to replace the city's 1996 Case Uni-Loader. The council will decide on the purchase at its next meeting.
• The council agreed to call a special meeting Feb. 19 for the public hearing on the annexation of Briarwood Properties.
This story was updated to correct an error in the date of the next regular council meeting. Because of Presidents Day, the next regular meeting will be 7 p.m. Monday, Feb. 25.