Sibling spellers off to state bee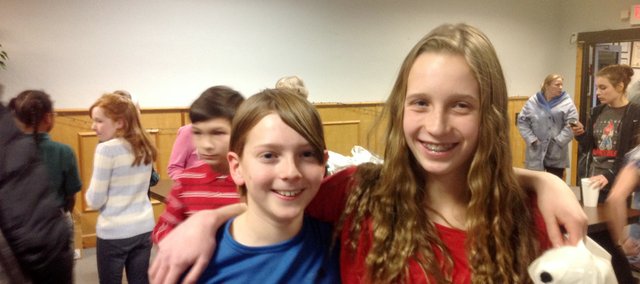 It took eight rounds to finally determine a winner between brother and sister Sterling and Calder Hollond at the Leavenworth County Spelling Bee last Friday.
It was "liturgical" that slipped up sixth-grader Sterling, and eighth-grader Calder correctly spelled persuasion and piccolo for the win.
But they'll face each other again when they both compete in the Kansas Spelling Bee on March 3 in Hays, which will be Calder's second trip to the state bee.
"It's really exciting," coach Natasha VanDyke said of the win, adding that Calder won the county bee as a sixth-grader, too.
The Basehor-Linwood Middle School students said the secret to their spelling skills come from studying Greek and Latin while home-schooled for a few years when they were younger. Knowledge of those languages has helped them understand word structure better, and reading for hobby has helped too, Calder said.
"I think (spelling) is a good skill to have in life, and it's fun to test it," Calder said.
"I like the competition," Sterling added.
Sterling and Calder are the children of Anne and David Hollond of Basehor.