Bobcat wrestlers finish fourth in
KVL
Seaton, Smith win individual titles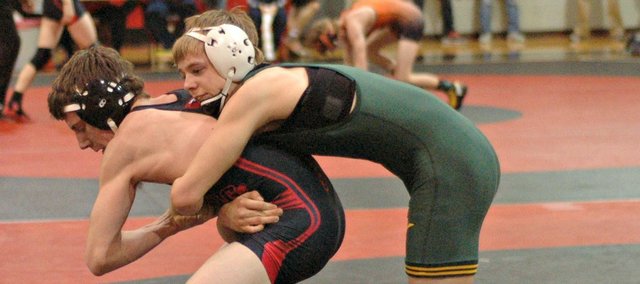 Lansing — Five Basehor-Linwood wrestlers reached the championship round in their respective weight classes Saturday, helping the Bobcats to a fourth-place team finish at the Kaw Valley League tournament at Lansing.
Sam Seaton (126), Josh Summers (138), Cory McCleary (145) James Handke (160) and Seagar Smith (285) all wrestled their way to the finals, and Seaton and Smith capitalized on the opportunity. Seaton went 3-0 to win the 126-pound title, Smith went 2-0 after receiving a first-round bye in the heavyweight bracket.
As a team, the Bobcats went a combined 3-0 in the consolation finals with wins by Shayne Morris (106), John Hopper (152) and Zack Carter (195).
BLHS will be back in action on Feb. 15-16 when it travels to Tonganoxie for a Class 4A regional tournament. Regional pairings will be released next week by the Kansas State High School Activities Association.
Overall team results
Tonganoxie, 145; 2. Mill Valley, 139.5; 3. Bonner Springs, 122; 4. Basehor-Linwood, 109.5; 5. Lansing, 73.5; 6. Turner, 73; 7. Piper, 38; 8. Bishop Ward, 27.
BLHS individual results
106 — Shayne Morris 2-1 (Third)
113 — Rylan Hawthorne 0-2 (N/A)
120 — Open
126 — Sam Seaton 3-0 (First)
132 — Open
138 — Josh Summers 2-1 (Second)
145 — Cory McCleary 2-1 (Second)
152 — John Hopper 3-1 (Third)
160 — James Handke 2-1 (Second)
170 — Steven Struzzo 0-2 (N/A)
182 — Open
195 — Zack Carter 3-1 (Third)
220 — Dominic Foster 0-2 (N/A)
285 — Seagar Smith 2-0 (First)