BSHS

rides three titles to third-place league finish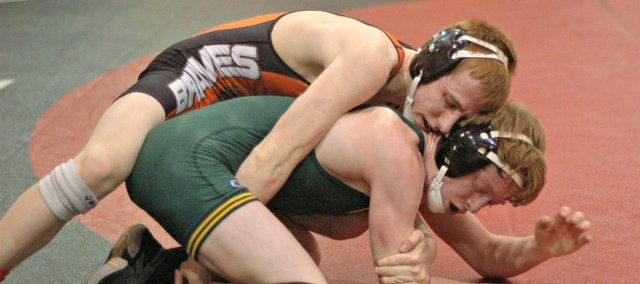 Lansing — A trio of Bonner Springs wrestlers won individual titles Saturday at the Kaw Valley League tournament and helped the Braves to a third-place finish in the team standings.
Josiah Seaton (106), Jonathan Blackwell (152) and Aaron Puckett (160) all received first-round byes and went 2-0 to win their respective weight classes. Justus Seaton (113) also reached the championship round, but dropped a 3-1 decision to the state's top-ranked Class 5A wrestler in Turner's P.J. Cheney.
The Braves also had six wrestlers reach the consolation finals, but Bryan Lanning (145) was the only one to win his final match.
BSHS will be back in action on Feb. 15-16 when it travels to Tonganoxie for a Class 4A regional tournament. Regional pairings will be released next week by the Kansas State High School Activities Association.
Overall team results
Tonganoxie, 145; 2. Mill Valley, 139.5; 3. Bonner Springs, 122; 4. Basehor-Linwood, 109.5; 5. Lansing, 73.5; 6. Turner, 73; 7. Piper, 38; 8. Bishop Ward, 27.
BSHS individual results
106 — Josiah Seaton 2-0 (First)
113 — Justus Seaton 2-1 (Second)
120 — D.J. Ballard 1-2 (N/A)
126 — Kolbe Seaton 0-2 (N/A)
132 — Coltin Bulkley 2-2 (Fourth)
138 — Dominic Salvino 0-2 (N/A)
145 — Bryan Lanning 3-1 (Third)
152 — Jonathan Blackwell 2-0 (First)
160 — Aaron Puckett 2-0 (First)
170 — Jacob Folsom 2-2 (Fourth)
182 — Patrick Ballard 1-2 (Fourth)
195 — Open
220 — Johnathan Carter 2-2 (Fourth)
285 — Les Wessel 2-2 (Fourth)