BLHS

girls cruise, boys edged in tiebreaker at Bobcat Power Invitational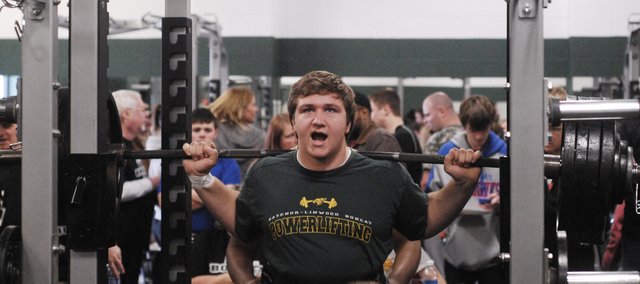 Photo Gallery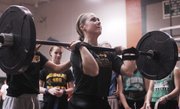 2013 Bobcat Power Invitational at BLHS
Up to 600 lifters from nearly 30 schools competed in the 2013 Bobcat Power Classic at BLHS on Saturday, Feb. 9.
For a moment, both Basehor-Linwood powerlifting teams appeared on their way to a sweep of the annual Bobcat Power Invitational on Saturday.
The girls outpaced Leavenworth for a commanding win, notching 117 points to the Pioneers' 82. It was on the boys' side where things became interesting.
Originally possessing a one-point lead, the BLHS boys became tied with Topeka High after a Topeka athlete's fourth-place finish gave them the one-point lead needed to tie, 75-75. From there, Topeka won the tiebreaker based on having more first-place finishers.
Six new meet records were set by Bobcat lifters and another two records were tied on Saturday at an event that drew nearly 600 athletes representing up to 30 schools.
Maecy Cooper earned women's powerlifter of the meet honors. Cooper tied the meet record with a 175-pound hang clean. Her squat of 250 pounds gave her a first-place finish at 148 pounds.
Cooper was one of nine female BLHS lifters to place first in one or more categories on Saturday. The Bobcat Power Invitational also saw Brandi Stahl compete in her first powerlifting meet since club volleyball season ended. Stahl placed first at 156 pounds after squatting 220 pounds and recording a hang clean of 160.
At 105 pounds, Rachael Cook benched 105 pounds to tie a meet record. Katie Tindell followed with a first-place finish at 114 pounds, powered by a clean of 135 pounds.
Courtney Leive tied for first at 132 pounds, but took second on a tiebreaker. Also at 132, Courtney Norris squatted 240 pounds to set a new meet record.
Katey Trower earned a pair of meet records at 140, doing so in the bench press (160) and total weight lifted (575). In the women's powerlifting division, Allison Kasick placed first with a total of 590 pounds lifted and Mallorie Belk set a meet record with a hang clean of 195 pounds.
On the boys' side, Drew Potter set a meet record in the 242-pound division's hang clean with a clean of 305 pounds. At 114 pounds, Hayden Morris placed first in the clean with 150 pounds. Dean Cochran placed first overall at 198 pounds after lifting a total of 950 pounds. Bret Fritz' 525-pound squat topped the heavyweight division.
This year's event also introduced side events to the daylong competition. Stahl placed first in the vertical jump (23.4 inches) and broad jump (6 feet, 9 inches). Meanwhile, Sierra Smith won her division's long jump with a leap of 7-11. Alex Jackson placed first with a 1.7 in the 10-yard dash. On the girls side, Norris earned a first-place finish in the same event with a 1.87. Tyler Miller also set a meet record in the junior division at 105 pounds after he squatted 165 pounds. Chase Unruh placed first in his junior-division vertical jump with a 33.3 and Kaleb Weinkauf placed first in his junior-division broad jump with a 8-7.5.
BLHS will next travel to Belton on Feb. 23 for a performance meet — both lifting and running — that will also be the final meet before the March 9 state meet in Abilene.