Mayoral forum gets heated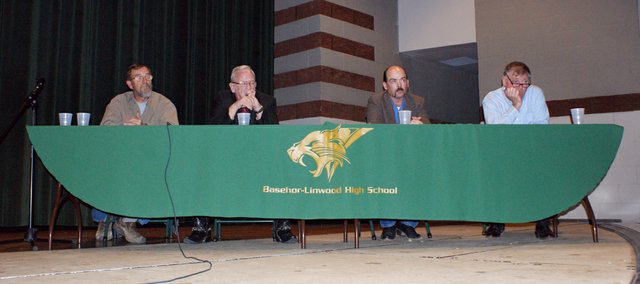 Monday night's mayoral candidate forum erupted into an exchange of terse words between one candidate and the incumbent mayor's wife.
While responding to a question about results of a 2012 citizen survey, candidate Fred Box took the opportunity to say he thinks David Breuer serving as mayor is a conflict of interest because of his family's business connections in Basehor.
"I think David Breuer ought to withdraw from being mayor," Box said.
The statement elicited a few gasps from audience members, as well as a few shouts to turn off Box's microphone.
He also accused Breuer of having a biased relationship with City Council President Travis Miles, who, he said, is related to the Breuer family by marriage. Miles' aunt is married to one of David Breuer's brothers.
Cheryl Breuer responded, saying the Breuer family pays taxes like other citizens and asked Box, "What's the problem from keeping business in Basehor?" She then left the auditorium, shouting to the moderator to turn Box's microphone off.
When an audience member later asked a question about the candidates' communication skills, citing the verbal attack, Box apologized to Cheryl Breuer.
The remainder of the forum was considerably calmer, with discussions focusing on road improvements, planning for growth and attracting development to Basehor.
All four candidates were at the forum Monday, including Box, David Breuer, Alan Townsend and Scott Kendrick. Primary elections are Feb. 26 and Basehor Community Library will hold a final city and school board candidate forum at 7 p.m. March 19.
Growing Basehor
Box told audience members Basehor is going to grow no matter what, and while the city needs to be ready for it, he thinks it's time to take a step back from the push to construct unnecessary infrastructure.
"We're trying to get ahead of things," he said. "We don't need to continue to push the envelope and build a bunch of places we can't afford to build right now."
He added that the city should focus on taking care of senior citizens, who are being forced into assisted living facilities and nursing homes because they can't afford taxes and fees the city imposes upon them.
Breuer said Basehor's location near a major airport and retail centers make it attractive for many families. But having great schools is an even bigger draw.
Breuer said he'd like the city council and planning commission to work together to plan for growth. Paying for infrastructure also takes planning, he said.
"We have to make the commitment to put that money away," he said.
Candidate Scott Kendrick said he believes funds for infrastructure initially must originate with the city, but then tax revenue from development will reduce the financial burden on Basehor residents.
"Are we going to remain a bedroom community or are we going to grow?" he asked.
Kendrick said he'd also like to see development of apartments, which would help the city's younger and older populations who may not be able to afford a house.
"We need to keep our people here," he said.
When asked how to attract new families to Basehor and where funds would come from to fund new development, Townsend said he didn't know.
When candidates were asked what areas of the community they thought needed the most attention, Kendrick again emphasized business development.
"Until we bring in more business and bring in sales tax, residents will foot the bill," he said.
Priorities
Breuer said increased attention to the city's 43 miles of roads has been a good step. He said that in previous years the city only upgraded one mile of road each year, but after challenging city staff, it upgraded 3 miles last year and will do 7 miles this year.
Breuer also responded to earlier comments by Box who said the Wolf Creek Parkway project is a "road to nowhere."
"I do believe that road is going to open up the opportunity for retail and bring in tax revenue, which stabilizes the property tax," Breuer said.
Townsend was asked what business, besides a grocery store, Basehor could use and he said a lumberyard would be a good addition to the community. He also talked about the city's need to make roads more pedestrian-friendly.
Getting along
In light of last year's recall election and infighting, communication was a theme during the forum.
Breuer emphasized the need to communicate calmly and said the new council is intelligent and works for the community, which makes them easy to work with.
"You just have to work together," he said. "Make the decisions, and move on."
Kendrick said he knows he can't please everybody, but he's running to be a part of the solution, not the problem.
"People need to leave their personal differences outside the door when they walk into city council meeting," he said.
Box agreed with Kendrick, adding that he wants to work together in the community's interest. He also addressed his resignation from the council last year.
"I resigned because it got so bad I had half of my friends on one side and half on the other side," Box said. "My friends were more important to me at that time than that council."
City administrator
Audience members were eager to hear candidates discuss their thoughts on hiring and keeping a new city administrator after Basehor has been without one for more than a year.
Breuer addressed the council's decision to put the search on hold until after April elections to broaden its candidate base. He said the city only received five applications that met the job description's criteria.
In regard to attracting a candidate after the city's debacle with its last city administrator, Breuer said he hopes the last nine months of calm in the council chambers will help.
This story was updated to clarify that Travis Miles' aunt is married to one of David Breuer's brothers. Cheryl Breuer said at the forum that it was untrue that Miles was related to David Breuer by marriage.