BSHS

boys dominated at Mill Valley, 71-41, on Tuesday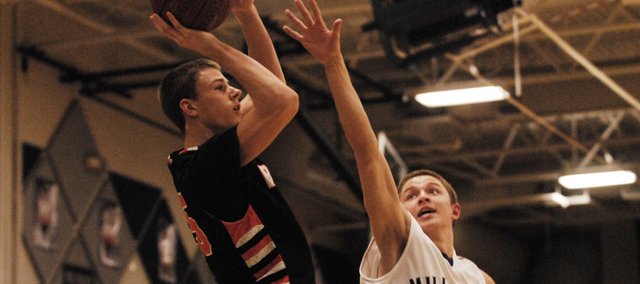 Shawnee — The afterglow of the Bonner Springs boys basketball team's Friday victory against Basehor-Linwood expired Tuesday at Mill Valley.
The Jaguars (15-2, 10-1 in the Kaw Valley League) outscored the Braves, 20-8, in the second quarter and went off for another 29 points in the third quarter to hand BSHS (8-10, 4-8) a 71-41 defeat.
No BSHS player reached double figures on Friday, whereas five Jaguars hit that mark. Mill Valley was led by Drew Boatwright's 18 points, 12 of which came from four three-pointers during the Jaguars' huge third-quarter output.
"They were shooting lights out," BSHS coach Dan Streit said.
A 17-8 Mill Valley lead after the first quarter would be the closest the game would get on Tuesday. Austen Twombley, Brandon Moore and Zshavon Dotson each scored seven points to lead the Braves and Jordan Jackson and Logan Terrell both added five points.
"We've got to finish," Twombley said. "We didn't finish a lot of possessions tonight."
It didn't help that the same defense that gave BLHS fits on Friday did nothing to stop the Jaguars' onslaught on Tuesday.
"Defense won the game for us against Basehor," Twombley said, "but our defense wasn't there tonight."
The Braves will be off Friday before traveling to play Bishop Ward on Tuesday at Kansas City Kansas Community College.