Braves finish second, Bobcats fifth at regional wrestling
BSHS

qualifies six for state,

BLHS

sending five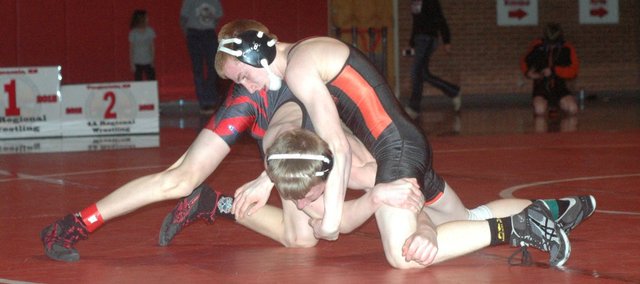 Photo Gallery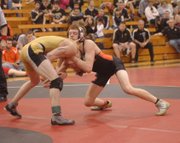 Bonner Springs wrestling on the road to state
The Bonner Springs wrestling team is sending six Braves to the Class 4A state wrestling tournament in Salina on Friday, Feb. 22 and Saturday, Feb. 23. Take a look at photos from the KVL and regional wrestling tournaments, and stay tuned for state coverage.
Tonganoxie — The Bonner Springs wrestling team had four individual champions Saturday at the Tonganoxie Class 4A regional tournament, but fell short of a team title. The Braves finished second in the team standings with 162.5 points — 21 points behind host school Tonganoxie.
Josiah Seaton (106), Justus Seaton (113), Jonathan Blackwell (152) and Aaron Puckett (160) each went undefeated to win individual titles. They are joined by runner-up D.J. Ballard (120) and third-place finisher Bryan Lanning (145) as qualifiers for next week's state tournament in Salina.
Meanwhile, Basehor-Linwood had five wrestlers make the state cut on the way to a fifth-place team finish. Cory McCleary (145) brought home the Bobcats' only individual title, accounting for 25.5 of the team's 95.5 points.
Other BLHS state qualifiers are third-place finishers Sam Seaton (126), John Hopper (152) and Zack Carter (195), as well as fourth-place finisher Seagar Smith (285).
Overall team scores
Tonganoxie, 183.5; 2. Bonner Springs, 162.5; 3. Baldwin, 151; 4. Spring Hill, 134.5; 5. Basehor-Linwood, 95.5; 6. Jeff West, 88.5; 7. De Soto, 85.5; 8. Atchison, 63; 9. Ottawa, 55; 10. Santa Fe Trail, 51; T11. Piper, 41; T11. Sumner, 41; 13. Eudora, 30.5; 14. Perry-Lecompton, 30; 15. Bishop Ward, 5.
Bonner Springs results
106 — Josiah Seaton, 3-0 (First)
113 — Justus Seaton, 3-0 (First)
120 — D.J. Ballard, 3-1 (Second)
126 — Kolbe Seaton, 1-2 (N/A)
132 — Coltin Bulkley, 2-2 (N/A)
138 — Dominic Salvino, 2-2 (N/A)
145 — Bryan Lanning, 3-1 (Third)
152 — Jonathan Blackwell, 4-0 (First)
160 — Aaron Puckett, 3-0 (First)
170 — Jacob Folsom, 2-2 (N/A)
182 — Patrick Ballard, 2-2 (N/A)
195 — Open
220 — Johnathan Carter, 3-2 (N/A)
285 — Les Wessel, 2-2 (N/A)