BLHS

girls dealt latest razor-thin loss at Piper on Tuesday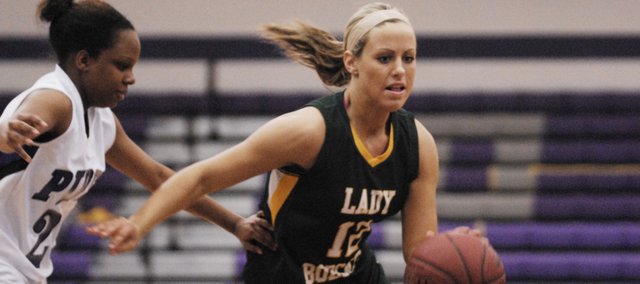 Kansas City, Kan. — Arms intertwined, the rest of the Basehor-Linwood girls basketball team watched from the bench as the Bobcats again found themselves in the waning moments of a stalemated game.
With 10 seconds left, down 49-48, senior Jamie Johnson drove to the basket but the ball rattled out. A scrum ensued for the loose ball and BLHS maintain possession on the jump ball. But the Pirates closed out the game with a pair of blocks and a steal. The scoreboard remained stagnant, the buzzer punctuating a bittersweet night.
"It's disappointing for us to see the girls lose because they did a lot of things extremely well," BLHS coach Jason Tatkenhorst said.
Junior Victoria Smith led BLHS (7-13, 5-7 in the Kaw Valley League) with 13 points, hitting nine free throws, four of which followed a technical foul by the Pirates in the third quarter.
Junior Amber Garver added 10 points and sophomore Marriah Clayton came off the bench to score nine. Senior Jamie Johnson also scored five points with six rebounds and senior Samantha Rutherford finished with six points.
The Bobcats began the game on a 5-0 run before Piper went on a 10-2 run of its own. BLHS closed out the first half on a 6-1 run after falling behind, 19-11, in the second quarter.
In hindsight, Tuesday's 7-7 first quarter looked like an aberration. Entering halftime, the Pirates maintained a 20-17 lead, but the Bobcats entered the fourth quarter up, 31-29, after leading by as much as seven in the third quarter.
Johnson opened the fourth quarter with a steal, and Clayton converted a putback to go up 33-29. After the Pirates went back up, Smith and Garver helped return the lead to BLHS at 39-34 with 4:35 left to play. The Bobcats' lead soon grew again after Clayton was fouled on a three-point attempt and made all three of her free throws. What followed was a torrid, back-and-fourth pace that at times seemed destined for overtime.
An extra period would be nothing new to BLHS, who's seen its share of nailbiters this season. That it wasn't often that the Bobcats emerged winners didn't show on Tuesday.
"We've never really been a team to give up," senior Kara Stephens said. "That's not a part of us."
With 90 seconds left, Garver hit two free throws to put the Bobcats up, 48-45. But with under a minute to play, Piper converted an and-one to arrive at the final 49-48 score.
A rematch is likely as Tatkenhorst expects to receive the No. 6 seed and return to Piper in Tuesday's sub-state opener.
If he can get another balanced performance like Tuesday out of his team, he figured, the outcome may be different.
"Every girl needs to realize they can shoot," Tatkenhorst said.