BSHS

boys can't avoid Cyclone surge in

O.T.

loss on Tuesday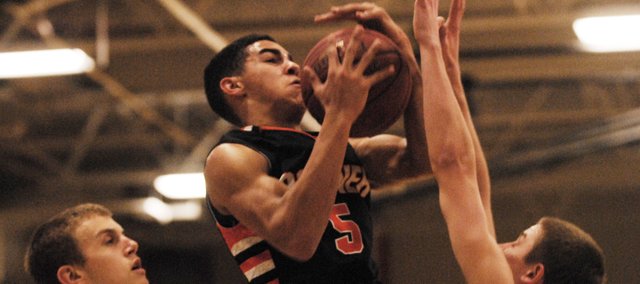 Kansas City, Kan. — It came down to the final seconds on two occasions as the Bonner Springs boys basketball team fell, 40-37, in overtime Tuesday against Bishop Ward.
The Braves came from behind late in regulation to take a 35-34 lead on a pair of Brenden Dotson free throws. Following a Jason VanMaren bucket, BSHS extended its lead to three with just 1:21 to go. The Cyclones had an answer, however, in Steven Grambin, who scored a game-high 12 points and drained a triple to tie it at 37-37 with less than one minute to play.
As had been the case for most of the game, points were at a premium in the extra session. A field goal and a free throw put the Cyclones up, 40-37, late in overtime. Missed free throws kept the Braves within one possession as they had the ball with a chance to tie and time winding down.
With just seconds left, Jordan Jackson's potentially game-tying three bounced off the front of the rim and went out of bounds off the Braves. Bishop Ward was able to inbound the ball and run out the clock and secure the win.
"Not taking anything away from Bishop Ward, but I didn't think we played well tonight," BSHS coach Dan Streit said. "It's a little different play- ing in a environment like this in terms of depth and shooting, but we still had good looks."
Early on, the Braves built an 8-4 lead in the first quarter and stayed in front for much of the second, taking a 15-13 edge into halftime.
The lead stayed with the Braves for most of the third quarter before a late 5-2 Cyclone surge put the home team ahead, 26-25, going into the fourth. Logan Terrell scored 11 points to lead Bonner Springs on Tuesday.
As the Braves close their regular season with senior night on Friday against Tonganoxie, Streit is looking for some leadership from his squad.
"Right now we don't have kids stepping up to be leaders," he said. "It's up to the guys to know they need to play as a team and figure things out."