Can't miss 'em:
BLHS

boys down Piper in 68-63 thriller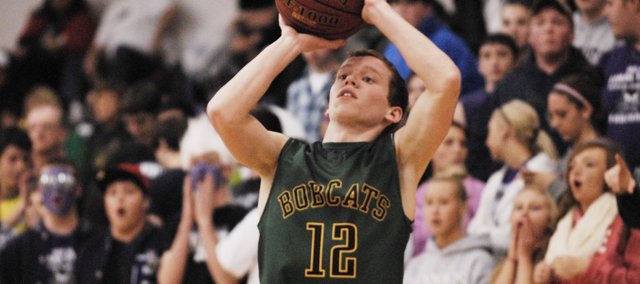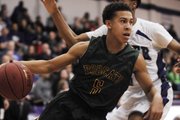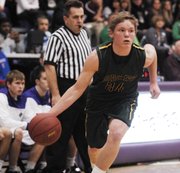 Kansas City, Kan. — The day after the Basehor-Linwood boys basketball team lost by 17 against Lansing last week, coach Mike McBride and the Bobcats returned to the court for a practice that would be at once a revelation and a foreshadowing of Tuesday's thriller at Piper.
This is what McBride says is the fourth version of the 2013 Bobcats, a team that's been faced with suspension, injury and attrition. It's a team that still has two key cogs from last year's run in Salina, but even its returning junior guards have had to adjust to being "the man," as McBride puts it.
"I think we've had some very good players who didn't look to shoot this season," McBride said after the Bobcats held on to defeat Piper, 68-63, on Tuesday.
Something clicked inside the gym that day as it translated into a lights out performance six days later, the Bobcats having no trouble going toe-to-toe with the Kaw Valley League's dark horse.
Juniors J.P. Downing and Zach McNabb made more than they missed from three-point range on Friday, each bookending the Bobcats' victory. Downing led the Bobcats (11-8, 9-4 in the Kaw Valley League) with 17 points, hitting three three-pointers in first half. McNabb added 12 points, hitting two of his three three-pointers in the second half and going 3 of 4 from the free-throw line in the fourth quarter.
"If you have the opportunity to shoot, you have to think it can go in every time," McNabb said.
That philosophy, that confidence, above all else is what propelled this — one would think — final version of the Bobcats to victory Tuesday. And it wasn't just those two. Freshman Jahron McPherson came off the bench to add 10 points, scoring six in the third quarter. Junior Tim Sanders added seven points and collected five rebounds.
And while the team's leading scorer, junior Chase Younger, was held to just two field goals all night and was beset by foul trouble early in the second half, he still finished with 14 points after going 10 of 12 from the free-throw line.
"Every man stepped up tonight," Downing said.
The Bobcats were able to close out the game by going 13 of 16 from the free-throw line in the fourth quarter. But that figure wouldn't have mattered had they not been able to answer a Piper team more than able to turn possessions into points.
After BLHS took a 30-27 lead into halftime, Piper's C.J. Harper opened the second half with a dunk to liven the crowd. Moments later, however, McNabb answered with a three-pointer, keeping his wrist folded a second longer before turning back up court.
"That's what I thought we had coming into this year," McBride said.
Still, even McBride didn't expect Tuesday's game to play out how it did. It took contributions from players that, in the preseason, McBride was unsure how they would figure into this year's team. Players like senior Matt Ogilvie, who was a constant threat to block shots in the paint, doing so twice in the fourth quarter alone. Junior Sean Potter brought down three rebounds and sophomore Carson Fliger closed out the third quarter strong with two rebounds and a free throw to build a 46-44 advantage entering the final eight minutes.
The team McBride has now both is and isn't the team he thought he had entering this season. It's a team that doesn't visibly wear the burden of defending a state championship. It's also a team unscarred by the rockier road it's had to travel this season.
"These kids still want to win," McBride said. "They could've folded their tents, but they instead chose to want to win sub-state."