Care agency buoyed by community support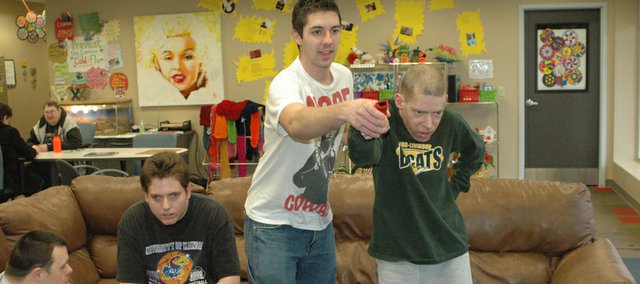 At Advocacy First, Tamera and Patrick Paine's mission is to better the lives of the developmentally disabled clients they serve.
"Our really big focal point here is just being accountable for your actions and being a responsible citizen," Tamera Paine said. "We think it's really important; just because they have a disability doesn't mean they can just sit around all day."
So the 10 clients they currently serve can be seen around the Bonner Springs community almost daily, whether they are just out to buy a soda or they are taking a class at the Bonner Springs Family YMCA. That's why the Paines say that Bonner Springs is just about the perfect place for them to meet their goal of helping their clients become more independent.
Photo Gallery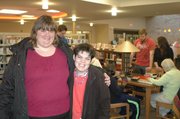 Advocacy First
The goal of Advocacy First, a car agency for developmentally disabled adults, is to help its clients learn life skills and become more independent. The agency's owners and operators say Bonner Springs's community makes the city the perfect place to reach their goals.
"I would say the nicest thing is that the community has just opened their arms up and really helped these guys out," Patrick Paine said.
The Paines started their family business in 2009. They have a lot of experience in the area; Tamera served as director of another agency for several years, while Patrick and their three children, who now work at Advocacy First, have worked with Special Olympics, as supported home care specialists and managing a group home in Johnson County.
Longtime Bonner Springs residents, they knew there weren't any care services for developmentally disabled adults in Bonner Springs.
"We love Bonner Springs, the kids were raised here, and we kind of knew what the people were like here, and it's the perfect place for it," Patrick Paine said.
They first began as case managers, but in 2010 they opened two group homes for their clients. In 2011, they expanded to the day care, now located in the building on the southeast corner of Kump and Nettleton Avenues.
Though the Paines say they know a lot of people still don't know what their agency does, those who do know have been more than helpful. The clients often visit places like the Vaughn-Trent Thrift Store, the Bonner Springs City Library and the YMCA.
"All those places have opened their doors up, taken these guys in," Patrick Paine said. "Once they figured out what we did, it was like 'Hey, that's kind of neat; these guys are trying to learn life skills, are trying to learn skills in the community, like going down to the Dollar General store and buy a bottle of pop.' That sounds easy for us, but for these guys, they don't have a lot of community experience to do that kind of stuff."
The clients' care is largely funded through KanCare, formerly Medicaid, and about half of the current clients are from Bonner Springs or Basehor. Many don't have family members who can take care of them anymore, or don't have any living family members. Some have come out of foster homes. Some are still at home, but their parents have to work and can't leave them at home during the day.
"That's kind of where we step in, that's what we do," Patrick said. "We're all about getting them out in the community, getting them active, trying to do things to where they can become more independent."
To reach that goal, they have several daily activities, planned by the Paines' sister-in-law and program coordinator, Chris Snopak. So they have weekly educational themes for life skills, and each month they study a different country. Every day, they discuss current events and advocacy around the world.
"We encourage the guys to watch the news, bring in different topics and things like that to discuss as a group," Tamera said. "We say, 'This is your world, too; you need to know what is going on in your world and in your town.'"
The Paines say they also have their clients give back to the community by volunteering; each year, they try to organize a blood drive.
They plan day trips to places like the Amelia Earhart Birthplace Museum in Atchison, Jesse James' home in St. Joseph, and performances at the Kauffman Center.
"It's a very packed schedule; they do a lot of different stuff," Tamera said. "There's some centers who have computers and a TV, and that's what they do every day… We try to be more about having teaching moments; that's a big thing for us. It's just building those skills and helping them to be more independent."
Clients often interact with other community members who visit Advocacy First — the Paines say one of their biggest helpers has been Bonner Springs Police Detective Leif French, who visits monthly.
"Usually police interaction with people with developmental disabilities isn't good, because they don't understand and they're scared," Patrick said. "(French) has been fantastic… Now it is a swarm to the door to get to see Detective French first to say 'Hi' to him. That has been a great success."