Four Braves reach double figures in girls' 71-47 win at Bishop Ward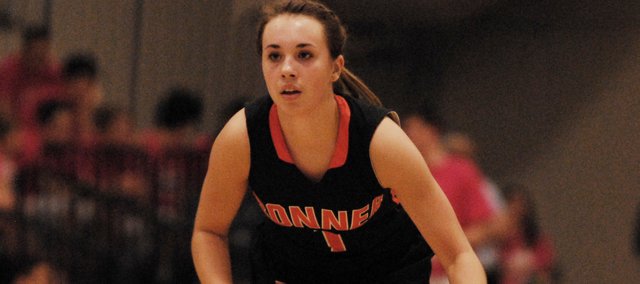 The game plan for the Bonner Springs girls, to push the pace and rely on their depth, came to fruition at the start of the second quarter and led to a 71-47 win against Bishop Ward on Tuesday at Kansas City Kansas Community College.
After a back-and-forth first quarter, which saw the home Cyclones take a 12-10 lead, the Braves got things going.
Bonner Springs opened the second quarter strong, taking a 21-12 lead and forcing a Bishop Ward timeout at the four-minute mark. The break in the action slowed the Braves' momentum and allowed the Cyclones to hang around, but BSHS still maintained a 30-23 edge at halftime.
Another run to open the second half added to the Braves' advantage as they began to pull away from the hosts. BSHS scored 10 of the first 14 points in the third quarter and with 3:03 left in the quarter led, 40-27. Bishop Ward again did its best to keep pace, matching the Braves point-for-point in the remainder of the third. Still, BSHS led, 48-35, going into the fourth.
The depth of the Braves finally became too much in the fourth quarter as they built their biggest leads of the night on their way to victory. Opening the fourth with eight unanswered points allowed them to remain comfortably in front the rest of the way.
"We're in good shape and with us playing on a little bigger court here tonight we really wanted to increase the tempo," BSHS coach Clay Oakes said. "Early on we didn't do a good job of that, but once we started to really push it we got going. With our depth and being able to play seven players and not lose a step is a big advantage for us."
The Braves were led by freshman Julianne Jackson's 18. Senior Anna Deegan finished with 12 points, while senior Haley Hoffine and sophomore Abrise Sims scored 11 points each. Leading the Cyclones with a game- high 18 points, including six threes, was Samantha Morrissey. BSHS (16-3, 11-2 in the Kaw Valley League) ends the regular season at home against Tonganoxie Friday for senior night.