A peek at sub-state: Breaking down the basketball brackets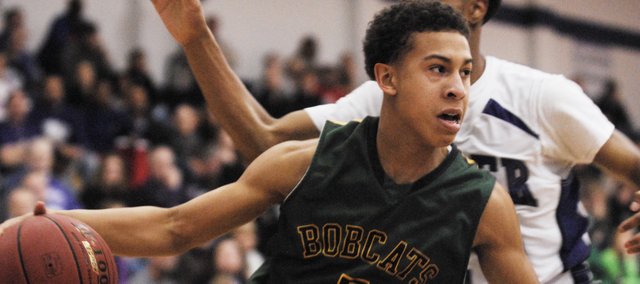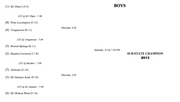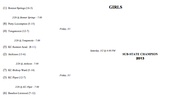 At some point they'll play, right?
Here's hoping Thursday's winter storm is the apex of the rest of the month's snowfall, as 4A sub-state hoops are slated to tip off Monday — the same day another band of white stuff is said to sweep the area.
No matter the date, however, the seedings and pairings have been set. Let's take a look at the sub-state chances for the Basehor-Linwood and Bonner Springs boys and girls basketball teams.
No. 2 Basehor-Linwood boys (11-8) vs. No. 7 Atchison (7-14), 7 p.m., Monday
Not all change is bad. No strangers to alterations this season, the new sight in the visitor's locker room at Piper High on Tuesday was a welcome one. Smiles and cheers abounded as the boys basketball team celebrated its 68-63 grind-it-out win against the Pirates, securing a regular-season sweep of the eventual top seed in the pair's sub-state bracket.
The Bobcats looked sharp on Tuesday in a game peppered with fouls — each team was whistled an upward of 20 times on Tuesday. J.P. Downing and Zach McNabb were lethal from behind the arc while leading scorer Chase Younger spent a chunk of the game on the bench with foul trouble. Jahron McPherson, Matt Ogilvie, Sean Potter, Tim Sanders and Carson Fliger also saw the court, each finding a way to make a notable contribution. Tuesday's win served as a beacon of hope for a season that appears to still have some legs. The Bobcats and Pirates (14-5) are the only teams in the boys bracket with above-.500 record. Should a rematch await in the final, the Bobcats' regular-season sweep will give them the mental edge as they seek a return to state.
No. 5 Bonner Springs boy (8-11) at No. 4 Tonganoxie (8-11), 7 p.m., Monday
The Braves are no strangers to close calls. BSHS has dropped three games by three points or less, the latest in overtime against Bishop Ward on Tuesday. Meanwhile, they pulled off a 43-42 win against Basehor-Linwood on Feb. 8 in a rematch of their Dec. 11 65-48 blowout loss. That and their second meeting with Piper last month more than anything signify what the Braves can be when they're defense comes to play. The Braves were routed at home by Piper on Dec. 18 but also fell by just three points a week earlier in a Paola tournament final and by five in January, a game in which the Braves held the Pirates to their worst shooting performance of the season.
Still, a lack of consistency has dogged this team all season. After Tuesday's loss to Bishop Ward, coach Dan Streit said the Braves still lacked someone stepping up on the court to lead the team to victory.
Weather willing, the Braves are scheduled to get a preview of their first-round sub-state matchup as the Chieftains visit on Friday for senior night. In their previous meeting, Tonganoxie handed BSHS a 63-50 road loss.
No. 6 Basehor-Linwood girls (7-12) at No. 3 Piper (12-7), 7 p.m., Tuesday
From a spectator's standpoint, this is the girls first-round's most intriguing matchup: a rematch of Tuesday's 49-48 loss at Piper.
Despite a slow first half, the Bobcats actually maintained a lead for much of the second half before a pair of Piper blocks and a steal in the final moments sealed it.
Tuesday was no fluke. The last time these two met was a Feb. 1 61-58 Piper win at BLHS. Could a third time be the charm? Earlier this season, the Bobcats endured an eight-game losing streak that spanned from Jan. 17 to Feb. 8. Plenty of time to throw in the towel. Tuesday's thriller, which followed a two-game win streak, suggested that there's yet some fight left in the Bobcats. Seniors Jamie Johnson, Kara Stephens and Samantha Rutherford don't appear ready to call it a career yet.
No. 1 Bonner Springs girls (16-3) vs. No. 8 Perry-Lecompton (5-15), 7 p.m., Tuesday
The BSHS girls appear poised to return to Salina one season after advancing to the program's first state tournament. This time, boasting more team speed than a year ago, the Braves could even be better suited for a deeper state run despite fielding a much younger roster.
They avenged the season's first loss — a 51-40 loss to Piper in December's Eudora Invitational final — with a pair of league victories against the Pirates by an average of more than nine points. They were shellshocked by Mill Valley on Jan. 11 but flipped the script in the early going of their Feb. 12 rematch, which ended in a 49-46 overtime win by the Jaguars. That Feb. 12 performance, perhaps more than anything, answered any questions remaining about the Braves. The one-two senior punch of Haley Hoffine and Anna Deegan — and freshman sensation Julianne Jackson (10.4 points per game) — helped take the No. 2-ranked team in Class 5A to the brink.
The same can be said, however, of No. 4 Tonganoxie (12-7), who came just two points shy of downing the Jaguars on Tuesday. The Chieftains may be the biggest obstacle in the Braves' way. And — again, weather willing — we'll get an early look at a potential sub-state semifinal on Friday when Tonganoxie visits BSHS. The last time they met, on Jan. 8, BSHS left Tonganoxie with a 49-37 victory.
Now that I'm through blabbering, here comes the fun part. What do you think of this year's sub-state brackets? Care to make any predictions. Sound off in the comments below or fire off your prognostications on Twitter using the hashtag #basehorsports or #bonnersports.