Basehor recovers from winter storm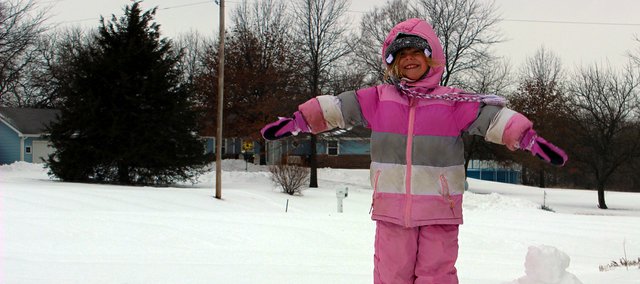 Basehor maintenance crews hoped to catch a little shut-eye Friday morning before heading out to plow again.
City superintendent Gene Myracle said his crew of five plows set out at 6:30 a.m. Thursday and worked until 2:30 a.m. Friday. After coming in again at 7 a.m., crews are doing maintenance on the plows and will be back on the roads again later Friday morning. Most Basehor roads are now cleared to two lanes, sanded and salted.
With about 11 inches of wet snow, plowing was taxing on the machinery.
"It took a little longer than anticipated," Myracle said.
Interim City Administrator Lloyd Martley said despite the difficulty in plowing, it helped that Basehor residents adhered to the emergency snow routes, making it easier for the plows.
"It certainly helps us get things moved," Martley said.
Almost all businesses were closed Thursday, and it was a good idea for residents to stay off the roads, Martley said.
Maintenance crews and the police department helped about a dozen stranded motorists Thursday, most of whom had slid off the road or got stuck in deep snow.
Luckily, Martley said, the most serious accident was a car hitting a mailbox.
Basehor-Linwood School District canceled classes on both Thursday and Friday, also canceling all extracurricular activities. The state wrestling tournament, which begins Friday in Salina, is still on, but will start a few hours late.