Braves in fifth place at state wrestling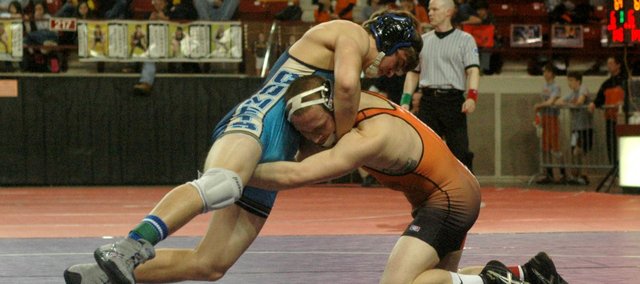 Salina — The Bonner Springs wrestling team has itself in position for a run at a state title, as the Braves wrapped up Friday's competition at fifth in the team standings.
Three wrestlers reached the semifinals in their respective weight classes as BSHS, a third-place state finisher in 2012, racked up 34 total points. The team currently sits 10.5 points behind leader and defending state champion Andale.
Josiah Seaton (106), Jonathan Blackwell (152) and Aaron Puckett (160) each went 2-0 to advance to the semifinals. Blackwell is trying to defend his 2012 state title, while Seaton and Puckett are each chasing their first.
Justus Seaton (113) won in the first round, but fell into the consolation bracket with a loss in the quarterfinals. Meanwhile, D.J. Ballard (120) and Bryan Lanning (145) bounced back from first-round losses with consolation wins, meaning all six Braves are still alive.
Action will resume at 10 a.m. Saturday with the championship semifinals and consolation quarterfinals. Josiah Seaton, Blackwell and Puckett have already guaranteed themselves medals and can reach the state finals with one more win each. The remaining BSHS wrestlers must win back-to-back matches to avoid elimination and reach the medal rounds.
Top 10 team scores
Andale, 44.5; 2. Colby, 44; 3. Chanute, 42; 4. Prairie View, 38; 5. Bonner Springs, 34; 6. Tonganoxie, 32.5; 7. El Dorado, 32; 8. Holton, 31.5; 9. Augusta, 31; 10. Royal Valley, 26.
BSHS individual results
Name, Record, Next opponent
106 — Josiah Seaton, 2-0, Levi Kester (Pittsburg)
113 — Justus Seaton, 1-1, Nathan Moore (Augusta)
120 — D.J. Ballard, 1-1, Daniel Thomas (El Dorado)
145 — Bryan Lanning, 1-1, Cory McCleary (Basehor-Linwood)
152 — Jonathan Blackwell, 2-0, Taylor Watkins (Columbus)
160 — Aaron Puckett, 2-0, Quade Woofter (Colby)