Three Bobcat wrestlers still vying for state medals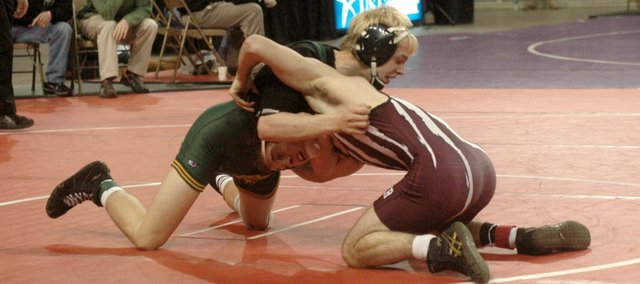 Salina — The Basehor-Linwood wrestling team didn't get the start it was looking for Friday at the Class 4A state tournament, but a trio of Bobcats could still go home with some hardware.
Sam Seaton (126), Cory McCleary (145) and Seagar Smith (285) each went 1-1 and can still finish as high as third in their respective weight classes. McCleary won in the first round, but fell into the consolation bracket with a loss in the quarterfinals. Meanwhile, Seaton and Smith lost their openers, but staved off elimination with consolation victories.
John Hopper (152) and Zack Carter (195) were eliminated after losing the first and second rounds.
Action will resume at 10 a.m. Saturday with the championship semifinals and consolation quarterfinals. All remaining BLHS wrestlers must win back-to-back matches to avoid elimination and reach the medal rounds.
Top 10 team scores
Andale, 44.5; 2. Colby, 44; 3. Chanute, 42; 4. Prairie View, 38; 5. Bonner Springs, 34; 6. Tonganoxie, 32.5; 7. El Dorado, 32; 8. Holton, 31.5; 9. Augusta, 31; 10. Royal Valley, 26.
BLHS individual results
Name, Record, Next opponent
126 — Sam Seaton, 1-1, Dalton Tavis (Tonganoxie)
145 — Cory McCleary, 1-1, Bryan Lanning (Bonner Springs)
152 — John Hopper, 0-2 (N/A)
195 — Zack Carter, 0-2 (N/A)
285 — Seagar Smith, 1-1, Brendan Neal (Perry-Lecompton)