Cordts reflects on
BLHS

wrestling team's season of firsts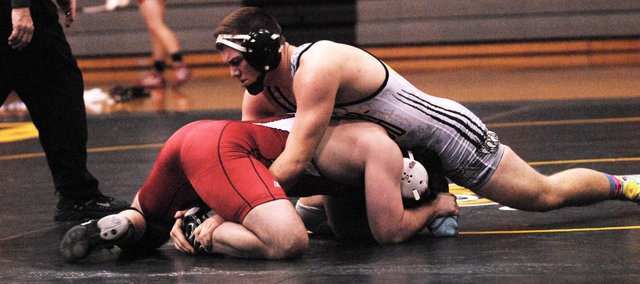 All week, Basehor-Linwood sophomore Zack Carter had what wrestling coach Tyler Cordts said was a "deer in the headlights" look about him as Friday's state tournament approached.
It had been a season of firsts: Cordts' first year at the helm, the first time multiple Bobcats reached the finals of area tournaments for awhile and improved showings at the league and regional tournaments. The latter qualified five Bobcats for the Class 4A state tournament in Salina, another first in some time.
But with Friday's tournament finally underway, Cordts said, things took a turn for his sophomore 195-pounder 10 minutes before his match.
"You know," Carter said, "I've got nothing to lose and everything in the world to gain."
By day's end, Carter's bid would be over, but not without providing a glimpse at a future that had been trending upward all season.
"He came out and wrestled fantastic," Cordts said.
Cordts said Carter (21-16) outwrestled Smoky Valley's Tyler Peterson for all of about 20 seconds of their first-round encounter — though a mistake in the closing moments elevated Peterson past Carter, 6-1. Carter's consolation match was no less thrilling, Cordts said, as he fell 3-2 to Wellington's Taylon Lamkin.
Senior Seagar Smith (26-19) worked his way deep into the consolation bracket, earning a 4-2 victory against Augusta's Jake Ehrlich and a pin over Perry-Lecompton's Brendan Neal. A guaranteed medal on the line, Smith would instead be dealt heartbreak in double overtime against the 285-pound bracket's eventual third-place winner, Winfield's Josh Horn.
"Probably the hardest match all year I've had to coach," Cordts said. "To see him come so close for that to happen."
Junior Cory McCleary (28-15) matched Smith in advancing deep into the consolation bracket. McCleary became the only Bobcat to win in the first round, notching a 12-0 decision win against Royal Valley's Bryce Golightley. A quarterfinal loss sent McCleary into the second round of the 145-pound consolation bracket, where he earned a pin against Bonner Springs' Bryan Lanning. But McCleary hit a roadbloack against Holton's Lane Lassiter in the bracket's third round.
Junior John Hopper (28-11) and senior Sam Seaton (27-11) also made the trip to Salina. Hopper's turnaround season ended on the first day, punctuating a season in which he won nearly 20 more matches than the previous year.
Seaton's bid for a medal ended in the second round of consolation matches at 126 pound. Seaton defeated Goodland's Austin Hernandez in the first round of the bracket but was pinned by Tonganoxie's Dalton Tavis in his next match.
"He really wanted to make it back to the state tournament," Cordts said. "We had hopes of putting him on medal stand, but it didn't quite pan out for him. Overall, he had a great season."
By now, Cordts said, success is no longer as surprising to his wrestlers. "We are this good," he said they've realized. "We can do this."
"Now, the expectation is that we put people in the finals, that we win duals," Cordts said. "It's no longer a surprise that we're doing this — it's the expectation."