Second winter storm hits hard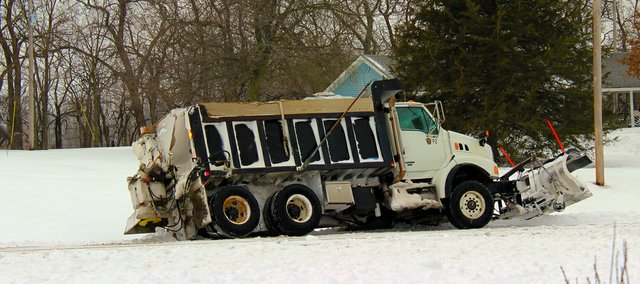 With power outages and heavier snow, the second winter storm seems to have taken a larger toll on Basehor this week.
Fairmount Township firefighters responded to three separate transformer blowouts between 2:30 a.m. and 7 a.m. Tuesday. Transformers at 154th Street and Parallel Road, 156th Street and Crestwood Drive, and 156th Street and Ripley Street blew out with the weight of heavy snowfall, leaving some Basehor residents without power.
"This time it was the heavy snow on the tree limbs leaning down on transformers and lines," Assistant Chief Tony Turner said.
Starting early Tuesday morning, about 1,250 residents throughout Leavenworth County were without power. Turner said most residents were without power for only a couple of hours Tuesday and had power back by early afternoon.
Snow plows were on the roads by 3 a.m. Tuesday but were facing a more difficult task than last week's snow, said City Superintendent Gene Myracle. Although the amount was about equal, this snow was much heavier and wetter.
"It's really heavy and just doesn't want to cooperate," Myracle said.
Myracle explained that completely clearing a street actually takes a plow three passes because of the limited size of the blade. Residents may expect streets plowed sooner, but they have to be patient, especially with dense snow.
"It just takes us a bit of time," he said.
Myracle said his crews have been working straight through the day and expect to be on the roads late into the night.
USD 458 canceled classes both Tuesday and Wednesday due to inclement weather.
First round sub-state basketball games for boys have been rescheduled for Wednesday night at Basehor-Linwood High School and girls for Wednesday night at Piper High School.