BLHS

boys cruise to sub-state semis after 91-58 win against Atchison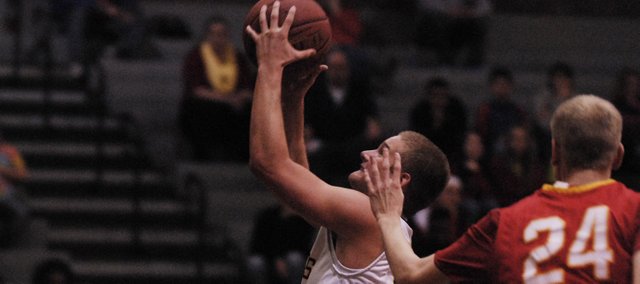 By the time Basehor-Linwood senior Matt Ogilvie put down a one-handed dunk — his second of the night — in the second half against Atchison on Wednesday, the Bobcats' bench erupted, its sub-state semifinal berth not in doubt.
BLHS cruised to a 91-58 victory on Wednesday to reach Thursday's semifinal game against Sumner Academy at Tonganoxie High.
Four Bobcats reached double figures with junior J.P. Downing (nine points) nearly making it five in the blowout.
By the end of the first half, the Bobcats had a comfortable 41-24 lead, paced 13 points apiece from juniors Tim Sanders and Chase Younger. Sanders did much of his damage under the glass on putbacks and Younger had little trouble cutting to the basket.
Younger fouled out with 6:15 left in the game, but not before finishing with a game-high 25 points.
Sanders finished with 17 points and six rebounds, and both junior Zach McNabb (six rebounds) and Ogilvie (five rebounds) each added 13. McNabb hit two three-pointers in the first quarter, but a 9-2 Atchison run that extended into the second quarter cut the Bobcats' lead to three. But the Bobcats would put the game out of question by halftime with a 22-2 run of their own.
Younger and Ogilvie kept up the pressure in the second half scoring 10 and seven points in the third quarter, respectively.
The Bobcats (12-8) will next play Sumner Academy (10-10) at 6 p.m. on Thursday. Sumner defeated Bishop Ward, 46-43, on Wednesday at Bonner Springs High.