BSHS

girls down Perry-Lecompton, 66-35, to reach Friday's sub-state semis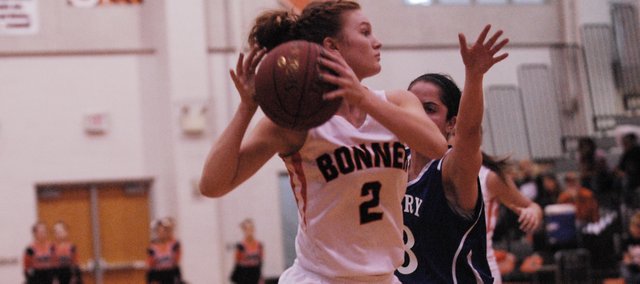 Bonner Springs senior Anna Deegan scored 11 points in the third quarter and finished with a game-high 20 points, helping the Braves advance to the sub-state semifinals after Wednesday's 66-35 victory against Perry-Lecompton.
The Braves actually trailed by a point twice in the first quarter, but a 14-2 second quarter created enough separation to weather any second-half runs and cruise to Friday's sub-state semifinal game in Tonganoxie. The Braves (17-3) will meet the Chieftains (13-7) in what was also scheduled to be Bonner Springs' senior night game.
Instead, winter weather created a belated senior night for Deegan and Haley Hoffine. Hoffine opened the game with a pair of assists and a steal, and finished with 11 points. Meanwhile, freshman Julianne Jackson recorded a double-double with 12 points and 10 rebounds.
Also on Wednesday, sophomore Kaleigh Taylor added eight points and four rebounds.