Improvements planned for highways, bus routes throughout county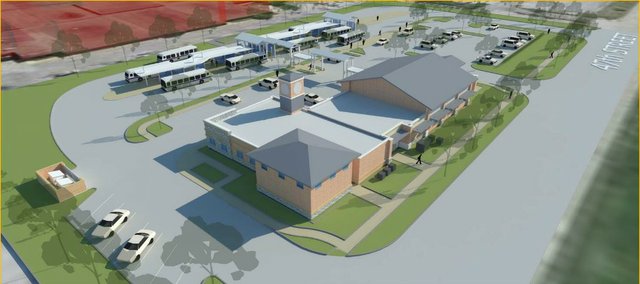 Improving transportation for drivers and transit riders has been a priority for Wyandotte County over the last year. With a new bus route and work about to begin at Kansas Highway 7 and U.S. Interstate 70, transportation officials are hoping residents find it easier to get where they're going.
The interchange
After suppressing some of its fears about Kansas Department of Transportation's K-7/I-70 Interchange project, the city of Bonner Springs decided to submit revisions for its memorandum of understanding in November.
Despite the uncertainty of the memorandum, KDOT metro engineer Jim Pickett doesn't expect the debate over revised plans to delay the project's first phase.
"We both, the city and us, have tried to understand the other's position and do our best in accommodating that," Pickett said.
The $300 million interchange project is separated into 10 phases, including single-point urban interchanges at K-7 and Kansas Avenue and K-7 and 130th Street. The first three phases should take about two years to complete.
Since the project's inception, Bonner Springs has had concerns about KDOT's proposal, but it wasn't until the city of Olathe backed out of its memorandum of understanding last year that it decided to ask for revisions, Bonner Springs City Manager John "Jack" Helin said.
Helin said the city's main concern with the project is that construction would move forward whether or not the improvements were truly needed according to traffic calculations. Construction of new interchanges could also harm the business community, Helin said, and without specific deadlines for all phases, it's hard to attract new businesses.
Some of the city's revisions include determining a "no earlier than" date before work would begin on interchanges beyond the I-70 interchange and examining actual traffic counts that would be reached before any interchange is constructed.
When Bonner Springs City Council members approved memorandum of understanding in November, they also agreed the city will terminate the memorandum unless satisfactory revisions are made.
Neither KDOT nor Bonner Springs officials think it will come to that, however.
"We said 'Let's come up with a mutually agreeable plan,'" Helin said. "We are at a critical junction and we understand the responsibility of cooperating with KDOT to move traffic."
Pickett said KDOT will respond to the revisions soon, but he doesn't foresee a problem working with the city's concerns.
"We've broken the overall project into phases that can be constructed when they're needed," he said. "We don't want to build anything until it's needed."
Pickett said the first phase of the project will likely start on time this spring with rebuilding the Riverview Avenue Bridge and realigning 122nd Street and Riverview Avenue.
The interchange project had been funded through phase 3 and recently gained funding through the design and right of way acquisition of phase 4 by federal earmark funds.
Although the project hasn't technically broken ground, the city of Bonner Springs is already preparing for the first phases. Helin said the city is preparing to take bids in March for the relocation of utilities along the corridor to 134th Street.
As soon as the first phase is completed in fall 2014, drivers will already start to reap the benefits of the project, Pickett said.
For more information about the interchange project, visit k7andi70interchange.org.
New route
While two transit centers along the new State Avenue/KCK Connex bus line are still under construction, the route has already proved to be a popular among riders.
The 14-mile route runs from 10th and Main in downtown Kansas City, Mo., through downtown Kansas City, Kan., and ends at Village West at 109th Street and Parallel Parkway.
Edwin Birch, Unified Government public information officer, said ridership for all Wyandotte County routes is expected to surpass 1.3 million when numbers are in for 2012, which is a 15 percent increase from 2010.
Once completed, the new transit centers in downtown Kansas City, Kan., and Indian Springs are expected to play a large role in the entire transit system.
"More than half (of riders) will go through the new metro and Indian Springs centers," Birch said.
After breaking ground in July of 2012, the Downtown Kansas City, Kan., MetroCenter, at Seventh Street and Minnesota, is expected to be completed in June.
Officials broke ground on the Midtown KCK MetroCenter, at 47th and State Avenue, in September and expect it to be completed in August of this year.
Once completed, the transit centers should lead to a quicker ride from downtown Kansas City, Mo., to western Wyandotte County, said Emerick Cross, UG transportation director.
"Transit riders and community members have all expressed great enthusiasm and interest in all of these new transit ventures," Cross said.
CONNEX transportation enhancements are going well, Cross added, and he's received positive feedback from transit riders.
"In general, our transit riders are very grateful for the improvements and are looking forward to seeing the final product," he said.
Even though construction isn't complete on the new transit centers, ridership rates have proved the success of the new route, Birch said. In October, growing passenger demand on Saturdays meant new larger buses for the KCK Connex route. Providing hourly trips between 6:30 a.m. and 6:30 p.m. on Saturdays, the route averaged 860 riders before the bus upgrade and 960 after larger buses were put in service
"This definitely goes to show a commitment by Unified Government to respond to requests from residents to improve the transit system," Birch said. "Our buses are full."
To view route maps and times, visit kcata.org.