Keeping score: Bonner resident donates time as roller derby referee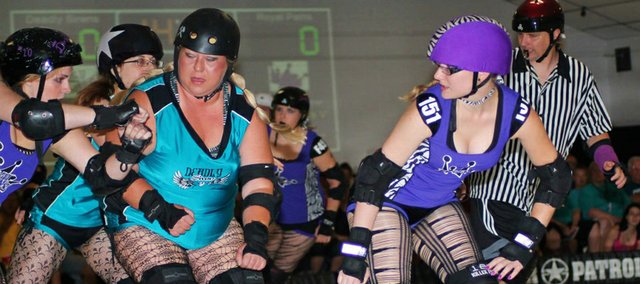 As a pack of girls crash and bash while skating their way around the track, rolling right next to them in black and white stripes is rule-keeper MT Threat – otherwise known as Bonner Springs' Matt Gurley.
Gurley is beginning his third year as a referee for the Dead Girl Derby roller derby league, now in its fourth season. The league, which began its season Feb. 16, has grown and moved its games from a rink in Riverside, Mo., to Hale Arena in Kansas City, Mo. As a volunteer referee, Gurley said the more he attends the derby bouts, the more his dedication to the unique hobby grows.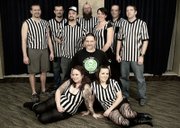 "At the time it was a way to get back into some sort of exercise, but the more I learned about the league and the girls, it kind of grows on you," he said. "It's kind of like a big family."
A friend got involved with the derby in its first year and told Gurley about it as they were both working at the Renaissance Festival. He knew Gurley had worked as a disc jockey as a skating rink when he was younger.
"I hadn't skated in probably close to 20 years," he said, though he said that "the skating came back pretty quick."
Even if he hadn't known how, the derby league offers several weeks of training for anyone who is interested in being either a referee or a skater on a team. As a ref, Gurley had to student and take a written test to become certified, first in the rules of the Old School Derby Association, which the league was originally affiliated with, and now with the Modern Athletic Derby Endeavor, or MADE, rules.
"It's a faster game as compared to other rule sets," Gurley explained.
Like the other local derby league, the KC Roller Warriors, Dead Girl Derby is a flat-track roller derby. The league includes more than 100 skaters on four teams. They will skate six regular-season bouts in 2013, culminating in the championship game.
A parts manager for Mitsubishi by day, this isn't Gurley's only unique hobby. He also performs as a magician with the Kansas City Renaissance Festival and auditioned with a group of fellow magicians last summer on America's Got Talent.
As is tradition for the roller derby team members, the referees come up with their own alter ego name, usually a play on words. Gurley said there wasn't any special meaning behind his name — it was just one that came up as he bounced ideas around with other league skaters.
"I said something to somebody and it sounded good, so I went with it," Gurley said.
As a ref, Gurley doesn't embellish his costume as much as the team skaters might. At the beginning of each bout, when the refs are introduced, Gurley said they might get a little theatrical — he sometimes comes out in a straight-jacket borrowed from his magic props — but they are all business during the bouts.
There are about 10 referees total, and this year Gurley serves as a "jammer" referee, keeping track of the skater who is in the lead and how many other skaters she passes or laps to score points.
This means Gurley does a lot of skating as he travels around to keep up with the girls on the track.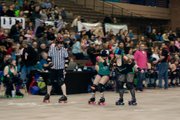 "The other night I was skating for five hours with a kidney stone," Gurley notes.
The MADE-certified referees also have moved into their own group and have started refereeing for a MADE derby league in St. Joseph, Mo. Gurley said they may also volunteer their services as the MADE leagues expand further, such as a new league starting north of St. Joseph in Trenton, Mo.
Tickets for league bouts are available through Ticketmaster or league members: $15 for adults, $7 for kids ages 6-12, and children under 6 are free. Parking at Hale Arena is $7. Season tickets are also available.  
For more information or tickets see facebook.com/DeadGirlDerby or deadgirlderby.com.