Snow won't stop 13th annual Marble Crazy, say organizers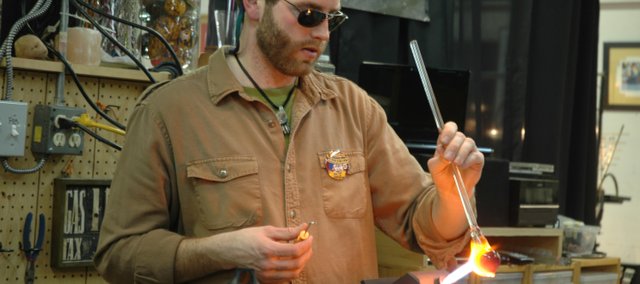 The snow won't stop Marble Crazy.
Moon Marble Co. will have its 13th annual Marble Crazy Friday and Saturday this weekend, and Lynda Sproules, co-owner of Moon Marble, said she expects attendance to be good because the hotel associated with the event has more bookings than normal, and the store has received many phone calls from people out of state asking about the event.
"We'll have as good a turnout if not better than normal according to all the people coming from out of town, so we'rellooking to have a good time," she said.
Actually in its 14th year because the second celebration of marble-making was named the "first annual" Marble Crazy, this year Moon Marble again will welcome about 22 marble artists selling their wares, with several demonstration areas.
Sproules said if the snow causes travelling problems, some artists may have to cancel, but they are expecting a group includign three or four artists new to the event from as far away as California and North Carolina.
Moon Marble, 600 E. Front Street, will be closed Friday, March 1, until noon, when it will open for Marble Crazy until 9 p.m. The event starts up again at 10 a.m. Saturday, March 2, running until 5 p.m.
Marble Crazy once again continues outside of Bonner on Sunday this year with the 10th annual "Marble Crazy at the Inn" from 9 a.m. to 3 p.m. at the Holiday Inn, 8787 Reeder Road, Lenexa. Presented by the Kansas City Marble Collectors Club, the event includes games and a marble tournament and up to 50 marble vendors.
Admission is free to all Marble Crazy events.