Hospice Partners moves office to Basehor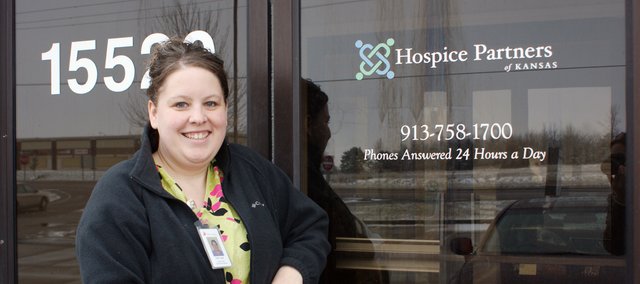 Hospice Partners of Kansas has found a new, more central location in Basehor.
"It allows us to serve all our patients better, get to them quicker and be the hub for all our referral sources," Clinical Supervisor Kelly Lopez said.
Previously located in Leavenworth, the business, which serves Leavenworth, Johnson, Atchinson, Doniphan, Jefferson, Wyandotte and Brown counties, moved to Basehor in October. Residents quickly noticed renovations to the building at 15520 State Ave., which sat vacant for several years, Lopez said.
In addition to hospice services, Hospice Partners offers grief support groups in Leavenworth and plans to add one in Tonganoxie early this year. The support groups are open to the public.
Hospice partners employs about 10 people and serves about 20 to 30 patients at a time.
"We're small enough that we can give really personalized attention but big enough to give high-quality care," Lopez said.
Hospice Partners emphasizes community outreach, Lopez said, and is always willing to visit local groups or schools to teach people about grief, death and coping. The business also welcomes volunteers to help visit patients.
"Hospice is a lot more about living than dying," Lopez said, adding that hospice's goal is to provide the comfort and reassurance to make death less traumatic for patients and their families.
Using art therapy, massage and many other techniques, Hospice Partners enjoys trying alternate methods to provide comfort and pain relief for patients, Lopez said.
Hospice Partners plans to have an open house and ribbon cutting this month.
For more information about its services, or to volunteer, visit hospicepartners.com or call 913-758-1700.