Two new home decor stores open doors in Bonner Springs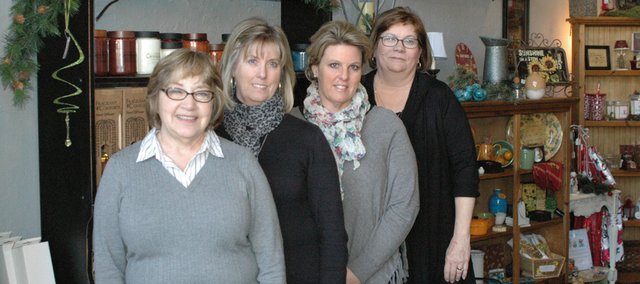 The downtown Bonner Springs area is on its way to becoming a home decorating boutique destination with the opening of two new businesses in the last month.
Bittersweet on Oak, 220 Oak St., opened just before Christmas and DeeDee's Jewelry & Vintage Décor, 141 N. Nettleton Ave., opened in early December. Both offer their own unique home decorations as well as other gift items.
Bittersweet is really a transformation of the store formerly known as Miller's Too. When DeGoler Pharmacy bought the Miller's Pharmacy in late summer of 2011, it also bought Miller's, Too, which had been located in a separate building on Nettleton.
Some of the home décor merchandise was placed in the new DeGoler's Pharmacy, but Carol Courtney said she and the other Miller's, Too, employees spoke with DeGoler's owner Glen Harte about continuing the home décor and gift shop in its own location.
"We just after a while decided to get back together and get it going again," she said. "We just wanted a separate shop; it was harder for people to go in and look (in the pharmacy) and get the same effect as when it's in its own place, all decorated."
But Courtney said it was important that the store remain immersed in the downtown community. They soon learned that just up Oak Street from the pharmacy, the Alden-Harrington Funeral Home and Harrington Floral were looking to lease out the space where they formerly displayed the horse-drawn hearse, and the store found a new home.
The new Bittersweet continues to be a family affair. Courtney ran Miller's, Too, with Linda Kasselman, her sister-in-law, and Judy Shelton, whose son is married to Courtney's daughter. Now, they have added Shelton's sister, Deanna Clouse, to the mix.
With so many family ties, Courtney said Bittersweet will be like a family-owned business.
"We really think of ourselves as four sisters," she said.
With the new home and employee line-up, the store also needed a new name.
"It took a long time for four women to make up their minds," Courtney said of the naming process. "I think it was the time of year — there's so much bittersweet in the fall, and we like the color, and the way it grows, you can use it in so many decorations."
The Bittersweet flower carries the meaning of "truth," which they liked combined with the strength of Oak.
The store will carry the same items that sold well in Miller's Too, though they want to add more repurposed vintage or antique furniture items, and they are looking for some new lines to carry, Courtney said.
Bittersweet is open 10 a.m. to 5 p.m. Monday through Saturday and can be reached at 913-998-3946.
Up the street and around the corner, Bittersweet has a kindred spirit in DeeDee's Jewelry & Vintage Décor. Val Barth, who opened the store with her daughter, Jessica Barth, said having a home décor store was a dream she always had with her mother, from whom the store gets its name.
"My mom and I would change the house around every month; we were always redecorating the house," Barth said.
Barth also began creating her own jewelry to make use of vintage family items, like one of her grandmother's earrings.
"I still wanted that memory of my grandma, so I would put it on a necklace or a bracelet," Barth said. "Then I started to get compliments from friends on jewelry I would make, and it grew from there."
Barth and her daughter started the business about six months ago from their home before deciding to seek out a location. The Lenexa natives knew they wanted a house that had been turned into commercial property on a main street with good parking.
When the Bonner Springs location popped up in the real estate agent's search engine, Barth said she knew it would be the best fit.
"Finding a house that's also commercial property and has parking on a main street, close to other downtown shops, and adorable at the same time," she said. "It had the front porch, everything I wanted in one place."
One room in the store is a studio where Barth can create custom jewelry pieces for customers, but the rest of the store features a mix of the jewelry and home decor items, including vintage furniture and clothing. Barth said she visits estate sales daily to bring in new items for the store.
The store also carries the Swan Creek soy-based candle and oils line. Barth said after bringing one of the candles from home to burn on the store's opening week, she had so many compliments that she contacted the company to carry the line, which includes scents like glazed walnut spice, and salted caramel popcorn.
Barth is something of a home decor aficionado, so she said the store will often feature the latest trends in home decorating — over the winter, she displayed the trend of holiday decorating using large, glass jars filled with Christmas candy and other items.
Barth said she is committed to offering reasonable prices, and she hopes to make the shop like her home, with items that complement but differ from what can be found in other Bonner boutiques.
"I hope to draw more people into Bonner and make it a destination," Barth said.
DeeDee's is open 10 a.m. to 6 p.m. Tuesday through Saturday and can be reached at 913-226-1324.