Yoga classes serve children of all abilities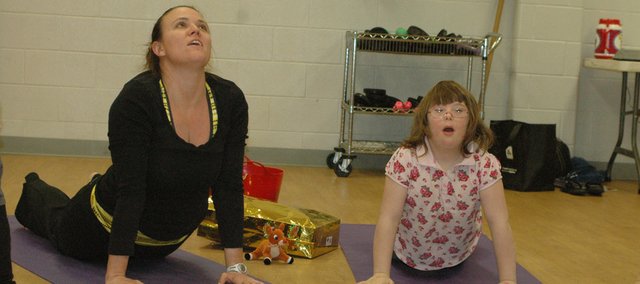 At their second-to-last class before Christmas, young yoga students tried out a few poses renamed for Christmas-related symbols at the Bonner Springs Family YMCA.
When it came to the Star — otherwise known as the Half Moon Pose — a few of the young students took some time to figure out the correct placement of their hands and feet.
"You've gotta listen to your body," instructor Tierney Thompson told the young students who struggled. "You've gotta say 'If it hurts, then I'm not going to do it.'"
But Cece Williams got the pose down quickly, and in a game at the end of the class, she chose it as her favorite pose. It was probably a little bit easier for Cece because she spent much of the 2011-2012 school year learning yoga with Thompson, who also is her teacher at Bonner Springs Elementary School.
Photo Gallery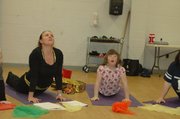 Zen Friends Yoga
Tierney Thompson, special education teacher at Bonner Springs Elementary School, discovered last year that yoga was a skill that really helped the students in her class. Now, she has created a class to make yoga available to all children. These photos were taken at the Dec. 12 class.
Beginning next week, Thompson again will offer the Zen Friends: Yoga for All Kids classes Wednesday evenings at the YMCA.
Thompson has been practicing yoga in some form for the last eight years, and last year, she and her special education students at Bonner Springs Elementary did a nearly year-long health and wellness unit on yoga.
Thompson said she decided yoga might be a good fit for her students whose abilities may limit them in other physical education areas.
"They don't like to run, they don't like to sweat, and they don't understand games, so I wanted to give them something of their own," she said.
With yoga, she saw her students build self-confidence and improve their balance and flexibility, as well as their focus and concentration. They even learned some relaxation techniques, though it took some time before they became expert "yogis."
"They started out not being able to hold still," Thompson said. "I saw such a huge improvement there with my students, that I thought 'I'd like to explore this with all kids.'"
Thompson approached the YMCA about the Zen Friends class, the facility agreed to provide space for the class if she taught as a volunteer. The class is free for Y members and $5 per class for nonmembers.
Thompson also created a website, zenfriends.webs.com, and a page on Facebook.
Taking place at 5:30 Wednesday evenings, the first session started at the end of October and went through Dec. 19. Thompson encouraged her students to participate, and three or four of them attended regularly, but a lot of other children were regulars, as well.
Thompson said the classes become another chance for those students to be "peer models" for students with special needs.
Another session of weekly classes at the same day and time begins Jan. 9 at the YMCA, and in the future, Thompson hopes to reach out to more children by providing a class right after school at the school or at the Bonner Springs Community Center.