Four Bobcats medal at Dick Burns Mat Classic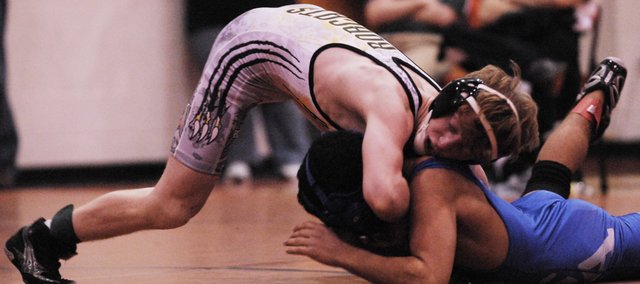 Photo Gallery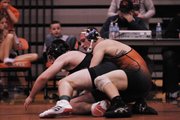 2013 Dick Burns Mat Classic
Bonner Springs played host to the annual Dick Burns Mat Classic on Saturday, Jan. 5.
When Basehor-Linwood junior Cory McCleary became the first Bobcat to qualify for a championship final at the Dick Burns Mat Classic in Bonner Springs on Saturday, he — and his teammates — received a surprise.
BLHS coach Tyler Cordts pulled out one of the team's new singlets, gray with claw marks down the side, and tossed it to McCleary.
"They all thought we wouldn't get them in until next week," Cordts said. "It was like Christmas."
In all, four Bobcats got to try on the singlets for the first time Saturday, two of whom placed second and two placed third to lead BLHS to a seventh-place finish (114 points) behind Atchison (126.5).
McCleary (11-5) advanced to the final of the 145-pound bracket, where he lost a 6-3 decision to Fort Scott junior Jacob Durossette. Junior John Hopper continued his superlative turnaround of a season when he made it to the 152-pound final, eventually losing by pin to undefeated Bonner Springs senior Jonathan Blackwell. The runner-up finish moved Hopper's record to 14-4, just one season after he went 9-20 as a sophomore.
Sophomore Shayne Morris (106 pounds) and senior Sammy Seaton (126 pounds) rounded out the day with a pair of third-place victories.
Next up for the Bobcats is the 13th annual Bobcat Classic. Among the most highly regarded wrestling tournaments in the region, the Bobcat Classic will feature up to 36 teams from multiple states.
Stay tuned for more coverage.