Three Braves win Dick Burns Mat Classic titles,
BSHS

places second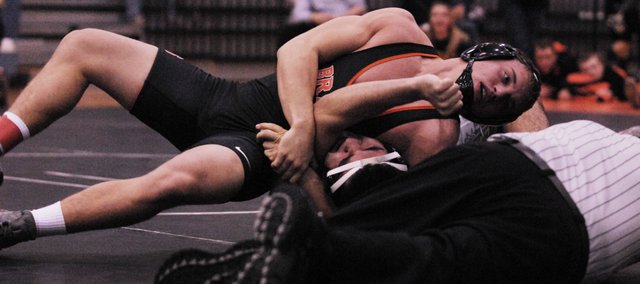 Photo Gallery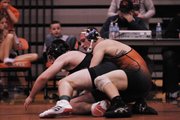 2013 Dick Burns Mat Classic
Bonner Springs played host to the annual Dick Burns Mat Classic on Saturday, Jan. 5.
Standing 20 feet away from his team as it posed with its Dick Burns Classic second-place trophy, counting among them three champions, Bonner Springs wrestling coach Brandon Jobe took little time to arrive at his conclusion of Saturday's tournament.
"I'm not satisfied with where we're at right now," Jobe said.
And thus the expectations remained as high as they've been all year.
Junior Josiah Seaton (106 pounds) and seniors Jonathan Blackwell (152 pounds) and Aaron Puckett (160 pounds) each brought home tournament titles to lead the Braves to a second-place finish (176 points) behind Fort Scott (204.5).
Seaton earned a 10-3 decision against Lee's Summit North freshman Austin Hanson to give the Braves their first title of the day and improve his record to 14-1. Blackwell and Puckett, meanwhile, kept alive their undefeated seasons, improving to 17-0 and 18-0, respectively.
Blackwell made short work of his opponents all day, taking little more than 40 seconds apiece to pin his final two opponents. Puckett began the day with a pair of pins, but outpointed his final two opponents, including earning a 4-3 decision victory against Atchison sophomore Tyler Harris in which Puckett clinched the winning points with less than a minute left.
"They're basically the heart and soul of the team," Seaton said. "The JV and most of the varsity looks up to them and wants to be just like them."
But Jobe said for much of the day he thought the Braves lacked toughness at times — at least enough to leave Jobe unsatisfied despite going three for three in title matches.
"We're not where I thought we were or need to be," Jobe said. He later added, "Every single guy has got to get better."
Senior Justus Seaton (15-2) took third at 113 pounds. Junior Les Wessel (11-4) also placed third, doing so in the 285-pound bracket. Freshman Jacob Folson (170 pounds), sophomore Bryan Lanning (145 pounds) and sophomore D.J. Ballard (120 pounds) each added fourth-place finishes for the Braves.
Next up is what Josiah Seaton called the team's toughest tournament of each season: the Bobcat Classic at Basehor-Linwood, where he added he'd like to see the team place in the top five. It will also be there that Blackwell's and Puckett's undefeated marks will receive their biggest threat. Jobe said the pair have yet to win a Bobcat Classic championship.