BLHS

boys weathered by deep

MVHS

team, lose 65-49 on Tuesday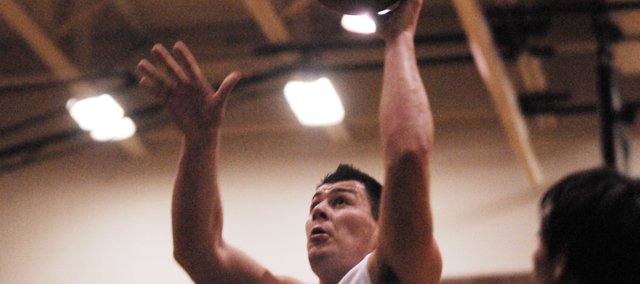 It started with a flurry, not unlike a prizefight, the two teams trading early haymakers.
Quarter one went to the hosts, the Basehor-Linwood boys basketball team, which jumped to a 15-12 lead against Mill Valley on Tuesday.
But moments later, MVHS junior Wyatt Voorhes sent a signal of things to come. Voorhes, a transfer from Bishop Miege playing in his second game with the Jaguars, buried a three-pointer to tie and finished with a game-high 19 points in the Jaguars' 65-49 victory.
After the Jaguars chipped away at the Bobcats throughout the second half, BLHS coach Mike McBride summed up the game's difference quickly: "Fatigue."
"They went 10 athletes deep," McBride said. "Sometimes that's the difference between 4A and 5A."
Tuesday also marked the return of BLHS senior Ben Johnson, who sat out before winter break resting a sore knee. The 6-foot-6 senior scored 12 points with eight rebounds and played as if he had a little lost time to make up for.
Johnson started strong, scoring the game's first basket, but had his wings clipped a bit after being called for two first-quarter fouls McBride didn't hesitate to contest. After being quieted in the second quarter, Johnson returned in the second half to be a presence inside. He stripped a Jaguar of the ball and smiled. He brought the ball down court at one point. He even pulled up for a few more jump shots than his coach may have preferred.
"I thought Ben had a great first night," McBride said. "Obviously he's going to be a little out of shape since June 3 was his last basketball game. But to play the way he did is a testament to his athleticism and his desire."
BLHS junior Chase Younger scored a team-high 18 points, hitting 7 of 10 free throws and knocking down three three-pointers and freshman Jahron McPherson scored six of his eight points in the first quarter. Johnson's presence also paved the way for fellow senior Matt Ogilvie to bring down seven rebounds.
The first half was a wild affair with 21 total fouls (13 against Mill Valley, eight against BLHS) being called. The frequency of whistles slowed in the second half, but Mill Valley's attack didn't.
The Jaguars outscored BLHS 20-10 in the third quarter to pad a lead they wouldn't relinquish. Although Johnson went on to bring down seven of his eight rebounds in the second half, the Jaguars brought down just enough — and forced enough turnovers — to create an abundance of fast break opportunities.
Taking the bulk of those was Voorhes, who slipped through a gasping defense for several attention-grabbing layups — he scored 12 second-half points.
MVHS improved to 5-2 (4-1 in the Kaw Valley League), winning its second straight since returning from winter break. Meanwhile, the Jaguars dealt BLHS its first league loss, dropping it to 4-2 (4-1 in the KVL).
Next up for the Bobcats is a trip on Friday to Lansing, which entered Tuesday alongside BLHS as the last KVL team unbeaten in league play. That, too, changed when Piper defeated Lansing, 62-55, creating a four-way tie atop the league standings.
Between Friday's showdown and next week's Bobcat Invitational — which features teams like Ottawa, Hayden and Blue Valley — McBride will be looking at more than just wins and losses these next two weeks.
"I told the guys if we go 1-4 the next five games and are 5-5, as long as we don't listen to the media and read the message boards, we've got the talent to get to become as good as we should be," McBride said. "We'll have 14 more games to get in good shape."