BLHS

girls fall short in second half against

MVHS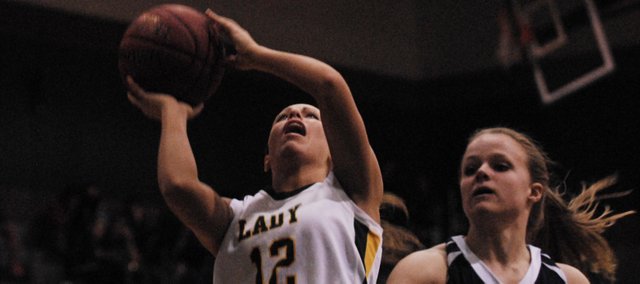 Basehor-Linwood girls basketball coach Jason Tatkenhorst thought his team was fortunate to be within six points of Mill Valley entering halftime Tuesday — fortunate enough to lessen what would have otherwise been a stern locker-room address.
Just before the break, Amber Garver knocked down a three-pointer to turn a 12-point deficit into a 23-17 MVHS lead. Any momentum built, however, didn't last long.
The Jaguars went on a 15-1 run in the third quarter and handed BLHS a 56-28 loss in the Bobcats' return from winter break.
"We've got to be better than that," Tatkenhorst said.
Alex Gorman led the Bobcats with six points, and Garver and Quinnlyn Walcott each added five points in the loss, which dropped the Bobcats to 3-4 (2-3 in the Kaw Valley League).
The Jaguars (6-1, 5-0 in the KVL) forced 14 turnovers and scored 10 points off offensive rebounds early in the game.
Tatkenhorst calls them "touchdown plays," moments in which a Bobcat throws the ball away and an opponent converts the turnover into a quick score. On Tuesday, such moments were MVHS' bread and butter. Stephanie Lichtenauer, who led the Jaguars with 18 points, also came up with more than a half dozen steals to generate easy points in transition. Tanner Tripp added 16 points and Brooklyn Sloop scored eight.
The Bobcats will have a chance to turn things around on Friday at Lansing (1-7, 1-4 in the KVL) and will play host to the Bobcat Invitational next week.
"I've got a feeling we're going to bounce back," Tatkenhorst said. "We've got a lot of competitors and they don't like the way they played tonight."