BLHS

Invitational basketball tournament brackets released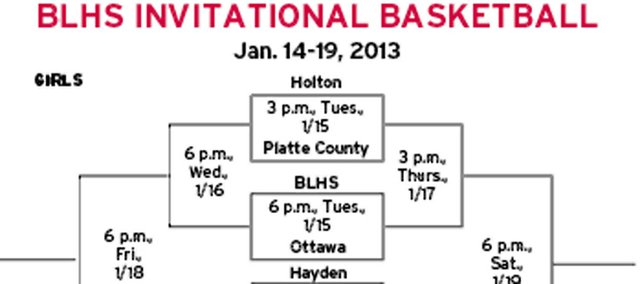 Related document
Related document
Basehor-Linwood released both the boys and girls brackets for next week's Basehor-Linwood Invitational basketball tournament.
The BLHS girls (3-4) are seeded No. 4 and will open against Ottawa at 6 p.m. on Tuesday, Jan. 15. The winner will meet the winner of the Holton vs. Platte County game that will take place at 3 p.m. on Tuesday. Holton (7-1 as of Jan. 9) is the girls tournament's No. 1 seed and is ranked No. 2 in Class 4A in the state basketball coaches poll.
Other teams included in the girls bracket include Hayden, Park Hill, St. Joe Benton and Pembroke Hill.
The BLHS boys basketball team (4-2) enters the tournament as the No. 2 seed and will play host to St. Joe Benton at 7:30 p.m. on Monday, Jan. 14. The winner will play the winner of the 4:30 p.m. Monday game between Hayden and Park Hill. A BLHS vs. Hayden matchup would be both a rematch of the 2012 sub-state title game and an early look at the teams' Jan. 26 game, which was scheduled after their previously scheduled game was postponed because of inclement weather in December.
Other teams in the boys bracket include Ottawa, which BLHS defeated to win the 2012 Class 4A state title and is ranked No. 1 in Class 4A this season. Also on the boys side will be Blue Valley and Pembroke Hill.
Stay tuned to basehorinfo.com for the latest BLHS Invitational coverage, and join the conversation on Twitter by using the hashtag #BasehorSports.