The buzz on Beemolo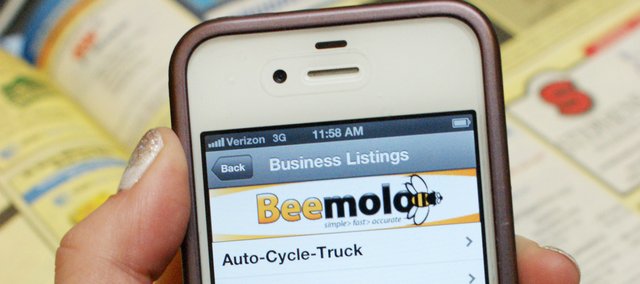 Mobile marketer Tom Fliger's new app for smartphones is about building community and helping people navigate through several local communities, including Basehor and Tonganoxie.
Fliger and his business partner Gus Tomelleri, who works on the tech side of the app, have been developing Beemolo for about 16 months, Fliger said. The idea of creating a directory, like the Yellow Pages, isn't a new one, but Fliger said his app offers what other larger aggregate directories can't: old-fashioned boots on the ground.
"We expect information to be at our fingertips and accurate," he said.
Fliger uses the Yellow Pages' original method of collecting information for its directories by visiting every business to make sure all his information is correct. It's that accuracy that he uses to market Beemolo.
"Google can't do what we do," Fliger said. "It's not designed to."
Fliger spends his day between Basehor, Tonganoxie and Lawrence, updating business information, photographing businesses and selling page upgrades to businesses so they can add extra links to their resources. The app is updated constantly to reflect business openings, closings and moves. That way, Fliger said, no one will ever drive to a business only to find it closed or nonexistent.
"People need a full and complete resource of everything in town," he said.
Every business in town is listed with its basic information, and for those who pay to upgrade, links to social media, websites or coupons are also available through Beemolo. In addition to businesses, the app provides an extensive directory of local government offices, churches, civic organizations, schools, sports and activities schedules and more.
Fliger is happy to demonstrate the perks of his app versus other large aggregate directories such as Google or Yelp. He runs a simultaneous search for barbecue restaurants in Lawrence. Beemolo pulls up five open restaurants. Yelp pulls up 22: Many have been closed for years, several have the wrong location or aren't in Lawrence, and a few don't actually serve barbecue.
The problem with many digital directories, Fliger said, is that it puts all the responsibility on the business owner to make sure he or she has the most accurate information published. Many business owners don't have time or don't know how to keep their information accurate in the digital world, he said.
Fliger actually started his career in sales and marketing as a representative for Yellow Pages, he said. As he saw the use of paper directories diminish, he used his entrepreneurial spirit to launch a new student planner at Kansas University, Kansas State University and University of Missouri. When he decided it was time to move on from paper products altogether, he said, he became interested in the budding mobile marketing industry made possible by smartphones.
Fliger has mostly used Facebook, Twitter, fliers and word of mouth to promote the app, and although it's still technically in the launch phase, Fliger said, it is fully functional and is already building up a strong user base. Fliger won't say how many users that is, which is part of his business principles, he said. While many apps share user information, he doesn't pull any information when someone downloads Beemolo. He knows how people have downloaded the app, but nothing more, he said.
While Beemolo is a business for Fliger, he also enjoys being able to provide a trustworthy, free service for users, he said. He's incorporated his mission into the name, as Bee in Beemolo signifies the community spirit bees use to survive.
"Bees are social, industrious, workers and strive for the improvement of their community," he said.
Beemolo is available to download for Android and iPhone. For more information about the app, visit beemolo.com.