Live coverage: The latest Bobcat Classic wrestling tournament coverage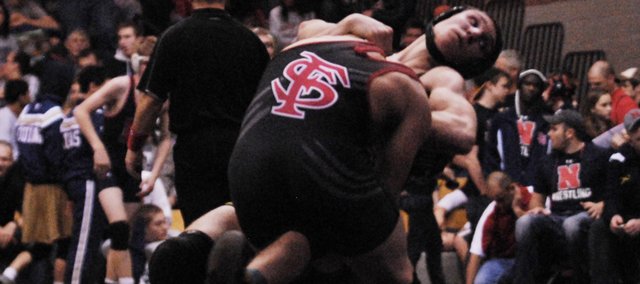 Photo Gallery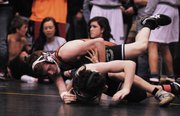 2013 Bobcat Classic
The 13th annual Bobcat Classic wrestling tournament took place Friday and Saturday at Basehor-Linwood, featuring 36 teams and some of the region's top-ranked wrestlers.
Last week
In case you missed it, catch up on last week's Dick Burns Mat Classic at BSHS, where four Bobcats placed in the top four of their weight classes.
Bobcat Classic on Facebook
Visit the Bobcat Classic 2013 Facebook page for more photos, videos and commentary. Take a look at these additional photos from day one.
The two-day, 36-team Bobcat Classic nearing its end, first-year Basehor-Linwood wrestling coach Tyler Cordts took a moment and looked out upon a packed BLHS gymnasium.
It was here in the infancy of the tournament that Cordts wrestled, representing Santa Fe Trail. That memory was fresh in his mind when he took the BLHS head wrestling coach position last summer, though he didn't remember it being like this.
"It's much different than I remember," Cordts said. "It's just a massive amount of people, great matches and all of them going by so fast."
His debut as coach wasn't ideal by his own standards as the Bobcats placed 30th with 26 points. Topeka Seaman edged Blue Springs, 177.5 to 172, to win the tournament, with St. James Academy in third. Bonner Springs finished with a program-best eighth place, ahead of ninth-place Tonganoxie.
However, the tournament was not without its bright spots for BLHS. Sophomore Shayn Morris went the deepest in the championship bracket. Morris (15-8) defeated Prairie View freshman Tanner Snow, 5-3, before being eliminated by Platte County freshman Matthew Schmitt.
Senior Sammy Seaton (14-6) won two straight in the 126-pound consolation bracket and fellow senior Seagar Smith won three in a row in the 285-pound consolation bracket, both earning praise from Cordts.
Stay tuned to basehorinfo.com for more on the BLHS wrestling team.