BSHS

girls dealt first league loss by Mill Valley in convincing fashion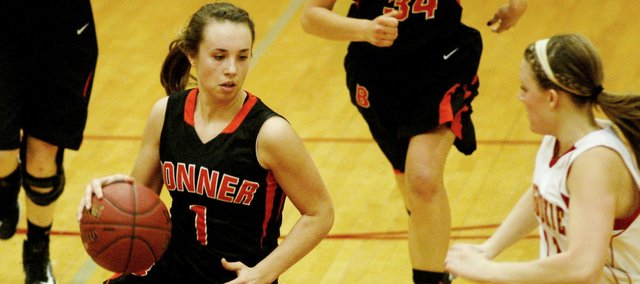 The best coaching decision Mill Valley girls basketball coach John McFall made Friday was to get out of the way and let his team shoot.
At Bonner Springs, the Jaguars piled on the points early with a barrage of threes. By the end of the first quarter, it was clear that one of the two undefeated Kaw Valley teams had come to play.
"It's like I told them," McFall said, "when we shoot the ball, we're pretty darn good —because we defend."
Mill Valley went on to defeat Bonner Springs, 47-21, anchored by a dazzling 26-7 first quarter where the Jaguars made 9 of 10 shots, including six threes. They were fearless on offense, taking advantage of every miss and turnover by the Braves.
"You could just see that when they were burying three-pointers and we were missing layups on the other end, it just deflated us," BSHS coach Clay Oakes said. "We kept playing hard the second half, but tonight was their night."
Mill Valley seniors Tanner Tripp and Stephanie Lichtenauer led the game with 14 points each and Mackenzie Conklin added 11. The three girls combined for eight three-pointers, including those six in the first quarter.
Bonner Springs struggled to find scoring, as most teams have experienced playing Mill Valley this year, as senior Anna Deegan had six points. Sophomore Kaleigh Taylor had five off the bench.
The disparity of the two teams shrouded the magnitude of the game. The Braves (7-2, 5-1) and Jaguars (7-1, 6-0) were among the elite teams in the Kaw Valley League going into Friday, but a more experienced Mill Valley team used age to its advantage. Oakes did note that he was encouraged with his team never losing its passion in spite of the scoreboard.
Other than the two returning varsity players on Bonner Springs, many of the girls had not played in this kind of marquee matchup. But the Braves lost earlier in the year to Piper and ran off a five-game win streak and they are in a good spot looking forward.
"This doesn't determine what our season is," Oakes said. "It has no bearing on how we're going to finish the season or anything like that. Learn from it, we'll let it go tonight."
Both teams still have solid records and are right there with Tonganoxie (7-1, 5-1) at the top of the KVL. A successful season tends to get lost game by game, and McFall sees some players taking it a little too seriously.
"They're 7-1," he said. "I'd like for them to be a little more confident."
Bonner Springs will try to regroup and avenge its early-season loss to Piper next Wednesday. Mill Valley also plays Friday, playing host to Shawnee Mission South.