City adds kitchen to Sunflower Room
Officials hope renovations increase rentals
Space in Bonner Springs Community Center is on its way to getting a new look.
City staff members have spent about two months renovating the back storage area of the Sunflower Room, the space formerly occupied by the Bonner Springs City Library, to become a kitchen. City officials hope the kitchen installation is the first step to expanding the room's use beyond municipal court dates and occasional community rentals.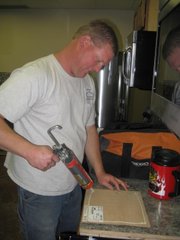 Until now, the Sunflower Room has looked much as it did when the library moved to its new facility in 2009 — no changes were made to the space aside from removal of large shelving that was in the middle of the room.
But Skip Dobbs, parks and recreation director, said changes were needed.
"This project is market-driven," Dobbs said. "There is a large market for rental facilities for wedding receptions, bridal and baby showers, family reunions and anniversary parties. Many prospective renters liked the size of our facility but said that it needed a kitchen and ambiance."
The city budgeted for the renovations by doing the work in-house and began renovations in November. The kitchen includes two ovens, two microwaves, a refrigerator, three sinks, two metal prep tables and some cabinets. A serving window also was created between the kitchen and main room.
Dobbs said a tight budget kept the city from installing commercial appliances in the kitchen, but the ovens that were purchased will hold commercial-sized catering pans.
This year, the city plans to further improve the appearance of the Sunflower Room, replacing the carpet with tile, removing the remaining bookshelves along the walls, removing some other walls, painting and adding window treatments.
Dobbs said the room also will include a decorated wall area specifically for renters who need to take photos for their event.
With the changes, Dobbs said the city anticipates having 25 to 30 rentals of the space each year.